Five Argentinian friends celebrating the 30th anniversary of their school graduation were among those killed in the New York truck attack.
Eight people were killed and 11 injured when a man, identified as 29-year-old Sayfullo Saipov, drove a truck along a bike path on 31 October.
The Argentine Foreign Ministry confirmed that five nationals were killed in the attack, which authorities said was an act of terrorism.
The victims were named as Rosario Hernan Diego Mendoza, Diego Enrique Angelini, Alejandro Damian Pagnucco, Ariel Erlij and Hernan Ferruchi.
The victims, aged between 48 and 49, had met at the Polytechnic Institute of Rosario, Santa Fe province, where they started a long-term friendship, Argentinian news site La Nacion reported.
They were part of a group of ten friends who travelled to New York to celebrate their reunion and to visit another friend. A sixth member of the group is among those injured in the attack.
Foreign Minister Jorge Faurie expressed condolences to the families of the victims and said the ministry's priority was to assist them.
Another victim is thought to be a Belgian national.
The suspect, originally from Uzbekistan, is reported to have driven a white Home Depot rental truck down to the bike path next to the Hudson River in New York City's Tribeca neighbourhood, near the World Trade Center memorial. He reportedly drove for as many as 20 blocks along the path.
The man was shot by police and arrested in the aftermath of the attack.
As the suspect is receiving treatment in hospital, a video emerged showing what appears to be Saipov in a black and red jacket staggering around the streets near the Hudson River.
He is seen holding a gun-shaped object. Authorities said the suspect left the vehicle brandishing a paintball gun and pellet gun.
Police said they are not looking for additional suspects. Authorities reportedly found a note in the truck used in the attack, claiming the suspect carried out the act in the name of the Islamic State (Isis) terror group.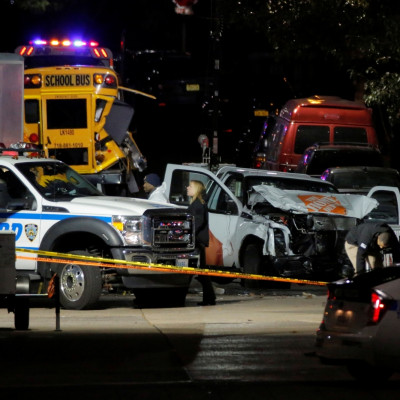 US President Donald Trump took to Twitter to condemn the attack, which he said was carried out by a "very sick and deranged person".
"We must not allow Isis to return, or enter, our country after defeating them in the Middle East and elsewhere. Enough!" the leader continued.
Reacting to the attack, New York's Mayor Bill de Blasio said: "This was an act of terror, and a particularly cowardly act of terror aimed at innocent civilians, aimed at people going about their lives who had no idea what was about to hit them."
Saipov worked for the Uber taxi company for six months. Uber said in a statement: "We are horrified by this senseless act of violence. Our hearts are with the victims and their families. We have reached out to law enforcement to provide full assistance."
The company added there was no cause of concern when it completed a background check on the man.
"We are aggressively and quickly reviewing this partner's history with Uber, and at this time we have not identified any related concerning safety reports," it added.