A 32-year-old bank clerk from Long Island, New York who told psychiatric doctors that she was being followed on Twitter by President Obama was locked up in a psychiatric hospital - but she was telling the truth.
The nightmare for Jamaican-born Kam Brock, an aspiring pop singer, began on 12 September last year (2014) when NYPD officers in Harlem confiscated her BMW 325Ci, suspecting her to be under the influence of marijuana. Despite finding no drugs in the car it was confiscated.
The next day Ms Brock went to retrieve her car from a local police station and says she was slapped in handcuffs, put in an ambulance and forcibly-injected with sedatives.
"Next thing you know, the police held onto me, the doctor stuck me with a needle and I was knocked out," Brock told New York Daily News.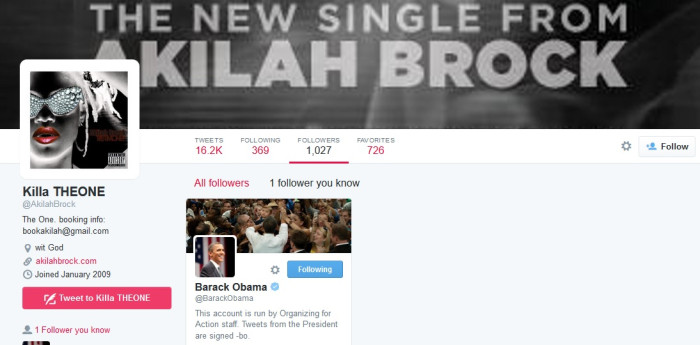 "I woke up to them taking off my underwear and then went out again. I woke up the next day in a hospital robe."
After being admitted to Harlem Hospital's psychiatric unit, Ms Brock had to endure eight days of psychiatric tests, group therapy, doses of Lorazepam and forced injections of lithium, her lawyer Michael Lamonsoff says.
When Ms Brock - who Tweets and performs as @AkilahBrock - said President Barack Obama followed her on Twitter, she was disbelieved - as she was when she said she worked in a bank.
Although admitting she can be "emotional," Ms Brock denies being an "emotionally disturbed person" and medical records obtained as part of a lawsuit she is filing at Manhattan Federal Court appear to back up hers story.
The document, a "master treatment plan," reads: "Objective: Patient will verbalize the importance of education for employment and will state that Obama is not following her on Twitter."
The medical record also notes "patient's weaknesses: inability to test reality, unemployment."
When Ms Brock was finally released after eight days with no explanation, she was handed a bill for $13,637.10. She is now seeking unspecified damages against the hospital, which has declined to comment.
Lawyer Michael Lamonsoff believes race may have played a factor in Ms Brock's "One flew over the cuckoo's nest" experience, saying: "How would you act if you were being told you were crazy?"
Ms Brock has one message for supporters as she continues with her lawsuit: "Follow me on Twitter! Like Obama does!"