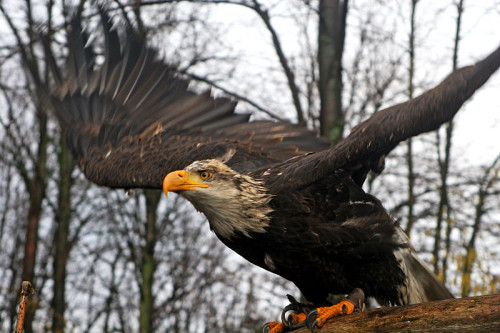 A 6.3 magnitude earthquake has hit New Zealand's lower North Island and knocked down a two-ton eagle sculpture promoting "The Hobbit" .
The incident occurred at Wellington airport, in the capital city of Wellington.
No passengers were injured by the sculpture's fall.
The eagle is one of a pair of identical Weta Workshop designs each weighing 2 tonnes. The eagles each have a wingspan of 15m, and were suspended from the roof by eight cables.
The quake did not cause any other damage at the airport. A runway inspection has been carried out and the airport cleared to continue operating, but no flights have been disrupted.
The earthquake was centred 5km north of Castlepoint on the Wairarapa coast at a depth of 90km, according to the Earthquake Commisison (EQC).
The quake has damaged roads and buildings along the lower coast of North Island. Most of the damage has been reported in the Wairarapa and Palmerston North areas.
The New Zealand Transport Agency said teams were busy checking the road network for damage but everything seemed to be okay.
"As expected after a quake of this size, there have been multiple aftershocks, and these will continue for some time as the region settles," Sara Page, GeoNet public information specialist at GNS Science, told the New Zealand Herald.
A building in the centre of Masterton has been plastered with red stickets after sustaining unspecified damage in the quake. As a result, 15 tenants will not be able to return home for at least one night as engineers need to carry out further inspections.
"The natural instinct is for people to get back into their residence but unfortunately that's against the law at the moment,'' Wairarapa area civil defence controller Kevin Tunnell explained.
Karen Monk, who lives in Mauriceville, just north of Masterton, told the New Zealand Herald that the quake was "really violent''.
"My baby daughter was in her cot asleep and I managed to leap across the hall and grab her and leap outside onto the lawn,'' Monk said.
"It was really sudden. Usually the earthquakes we feel up here, whether they're from north or south, they're more rolling and you start start with a gentle shake.
"This one just came with a bang, with massive jolting,'' Monk continued.
New Zealand is no stranger to earthquakes. In 2011, a 6.3-magnitude quake hit the city of Christchurch, in the South Island, and killed 185 people.