Few Christmases have slipped away without the mention of the famous Christmas Day truce of 1914 during the first holiday of the First World War. On Christmas Eve that year, German and British soldiers serving at Western Front in Flanders took part in a brief ceasefire and greeted each other.
A series of newly-found letters from a British soldier has revived memories of the Christmas truce of 1914, when the troops left their trenches and exchanged presents and sang songs and carols in no man's land. Some of them even played football.
The letters from Frederick James Davies to his mother were recently donated to the Imperial War Museums by his granddaughter, The Telegraph reported. Davies wrote about exchanging cigarettes and corn beef with enemies and having a "good chat with the Germans on Xmas day".
"They were only 50 yards away from us in the trenches. They came out and we went to meet them. We shook hands with them. We gave them cigs, jam and corn beef," Davies, a private in the seecond Battalion Royal Welsh Fusiliers, wrote.
"They also gave us cigars but they didn't have much food. I think they are hard up for it. They were fed up with the war. I am happy through it all. It's no use being otherwise," Davies, who died aged 61, said.
Davies's youngest daughter Audrey Trenchard, 86, said that her father's letters were a reminder "that the Germans weren't all bad". "They [the Germans] were family men like ours were, it's very important to keep this sort of thing alive", she said.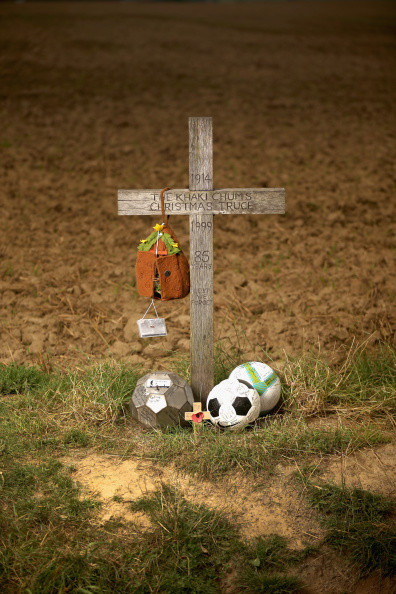 Christmas truce real account
The Christmas Day truce of 1914 has been described elsewhere in the past too by soldiers who witnessed the moment. A podcast on the website of UK's Imperial War Museums has WWI soldiers recalling the ceasefire, which was never repeated in war in the history of the world.
"On Christmas Eve at noon, fire ceased completely – on both fronts. Of course it was unusual that the opposite side also ceased fire," German Army officer Walther Stennes recalled in the podcast.
Colin Wilson of the Grenadier Guards added that the truce started with Christmas carols: "We heard a German singing Holy Night, of course in German, naturally. Then after he'd finished singing there were all sorts of Christmas greetings being shouted across no man's land at us," he said.
"These Germans shouted out, 'What about you singing Holy Night?' Well we had a go but of course we weren't very good at that. Anyway they said, 'Meet us and come over in no man's land.' Well after a time we were allowed – a limited number of us – our officers allowed a limited number of us to go into no man's land."
Another real time description of the Christmas truce was revealed in a letter from General Sir Walter Congreve to his wife found in Staffordshire council's archive last year. The general described the ceasefire as an "extraordinary state of affairs". He said he had heard of battalions playing football with Germans opposite them.