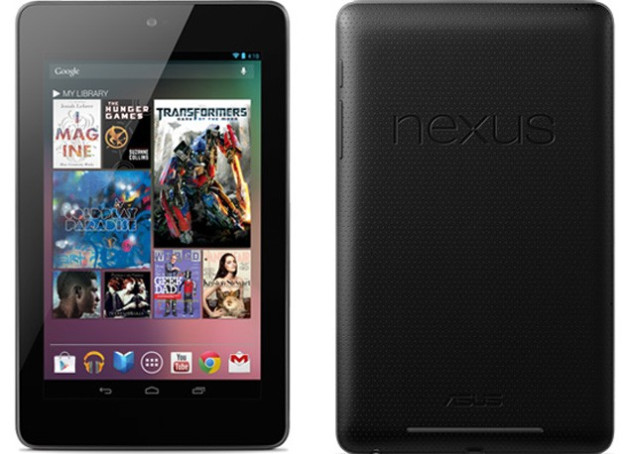 Contrary to recent rumours and fan expectations, Google's next-generation Nexus 7 tablet failed to see the light of day at the company's I/O conference in May. Though there is no official word on the release date for the device, a spate of rumours have surfaced online that speculate about its hardware features.
Nevertheless, it seems that the long speculated release and specification details of the device will finally come alive, as the next-gen Nexus 7 specs and release date are revealed by an ASUS representative.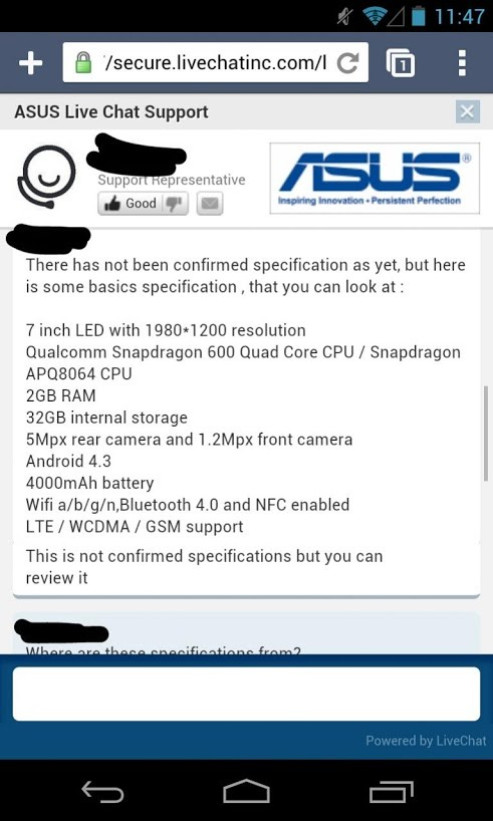 The folks at Android Authority have reportedly laid their hands on some screenshots, which allegedly show a chat interaction between the customer and an ASUS representative. The leaked screenshots further suggest that a potential ASUS customer was interested in purchasing the ASUS K009 (aka next-gen Nexus 7), which prompted the ASUS representative to reveal its specifications as well as hint that the 7in tablet would be launched by the end of Q2.
Quite interestingly, the technical specifications of the Nexus device as revealed by the representative are in line with earlier rumoured specifications. In other words, the complete list of specifications revealed in the chat interaction is as follows:
The device will ship with a 7in LED display running at 1980 x 1200 pixels resolution and will be powered by a Qualcomm Snapdragon 600 Quad-core or Snapdragon APQ8064 processor. Though there is no word about the processor clock-speed in the interaction, earlier rumours suggest it will be clocked at 1.7GHz.
The leaked specifications list also includes 2GB of RAM and 32GB of internal storage, while a 16GB variant of the 7in tablet cannot be excluded (if rumours turn out true). On the connectivity front, the tablet will be NFC enabled with support for WiFi a/b/g/n, Bluetooth 4.0, LTE, WCDMA and GSM.
Among other key specifications, a five megapixel rear camera and a 1.2 megapixel front-facing camera are also on the cards. The device is expected to run Android 4.3 Jelly Bean out-of-the-box and will be powered by a 4000mAh battery.
As Android Geeks reports, the 7in Nexus tablet also touted as "ASUS K009" was reportedly spotted earlier in the FCC logs that prompted several tech websites to confirm the device was next-gen Nexus 7 indeed. This confirmation has further strengthened the claims made by the leaked screenshot, and the release date is ambitiously speculated for late June when the next iteration of Jelly Bean (Android 4.3) is likely to debut.
The next-gen Nexus 7 is unlikely to feature Android 5.0 Key Lime Pie at the time of its release, as Google is set to launch its new Android platform no sooner than October when the company is poised to celebrate its fifth birthday. Given the uncertainties with Google's release date for next Nexus device, the rumour should be taken with a pinch of salt.