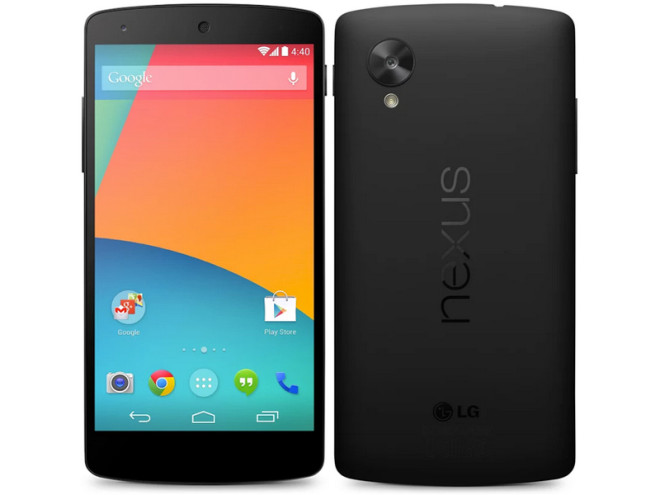 A new Android KitKat update with build number KTU65 has been spotted running on the Nexus 5, according to a recent report on Myce.
A bunch of Nexus devices including Nexus 7, Nexus 4, Nexus 10 and Nexus 5 are eagerly awaiting a bug-fix update for the existing Android 4.4.2 KitKat release as inherent software issues including battery-life problems have reportedly cropped up with these devices.

With rumours of an impending Android 4.5 release making waves on the internet, it is still unclear if the new KitKat update with build number KTU65 is actually Android 4.4.3 or Android 4.5 release under testing or something else.
Google has already acknowledged the issues hinting that future KitKat updates might fix at least some of them, paving the way for users to expect a major update from the Android maker.
The report further suggests the leaked KitKat build was first spotted on board a Nexus 5 via a recent Google forum post. It is said that the build was earlier tagged as "Google Restrict View" and thereby limited its visibility to people with proper credentials and authorisation.
Nevertheless, the tag has now been removed for some reason and the update thread is accessible to the public.
It is speculated that the letter "K" in the build number KTU65 could actually stand for KitKat as Myce reports that the build appears to be extremely recent. In other words, it means that Nexus owners could enjoy another major KitKat update before the highly-anticipated release of Google's 'L' Android update.
Earlier reports suggested that the Android 4.5 update would arrive in July along with the Nexus 8 release. With Google's I/O conference slated for late June, rumours are rife that the next-gen Nexus tablet could actually be launched at the event.
As scarce details are available about the leaked KitKat build, it sounds like mere speculation that it could be the next Android update for Google's Nexus devices.