NFL Star Adrian Peterson Charged With Child Cruelty
Minnesota Vikings running back indicted on child cruelty charge after injuring four-year-old son with branch.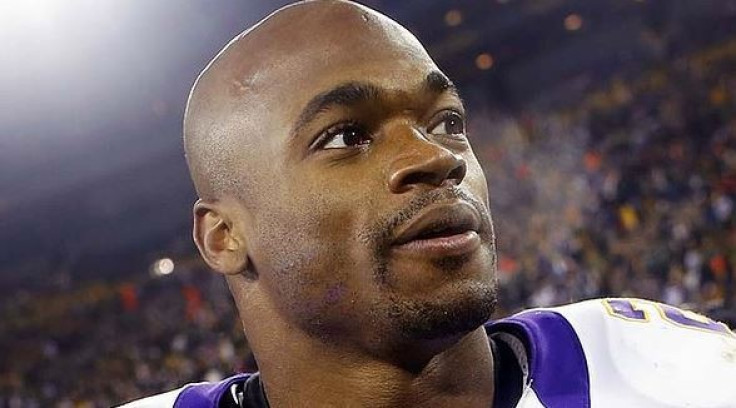 American football player Adrian Peterson has been indicted by a Texas grand jury on a child cruelty charge.
The 29-year-old Minnesota Vikings running back is accused of disciplining his child with a branch, and was indicted in Montgomery County on charges of reckless or negligent injury to a child.
The charges reportedly relate to an incident in which Peterson allegedly whipped his four-year-old son with a tree branch, causing cuts and bruises on the boy's back, legs, buttocks, hand and scrotum, The Guardian reported.
Peterson's lawyer Rusty Hardin said the NFL star regretted the incident but never intended to harm the child.
"Adrian is a loving father who used his judgment as a parent to discipline his son," Hardin said in a statement. "He used the same kind of discipline with his child that he experienced as a child growing up in east Texas.
"Adrian has never hidden from what happened. He has cooperated fully with authorities and voluntarily testified before the grand jury for several hours. It is important to remember that Adrian never intended to harm his son and deeply regrets the unintentional injury."
The Vikings said Peterson will not be taking part in the team's next game on Sunday.
"The Vikings are in the process of gathering information regarding the legal situation involving Adrian Peterson," the team said in a statement. "At this time, we will defer further questions to Adrian's attorney Rusty Hardin."
Peterson's indictment is the latest setback for the NFL. Earlier this week, TMZ released footage of another American football running back, Ray Rice, hitting his then fiancée Janay Palmer in a lift in an Atlantic City casino.
The White House issued the following statement condemning the incident: "The President is the father of two daughters. And like any American, he believes that domestic violence is contemptible and unacceptable in any civilised society."
In a separate incident in 2013, Peterson's two-year-old son died from injuries sustained during an alleged assault by Joseph Robert Patterson, the boyfriend of the boy's mother.
© Copyright IBTimes 2023. All rights reserved.