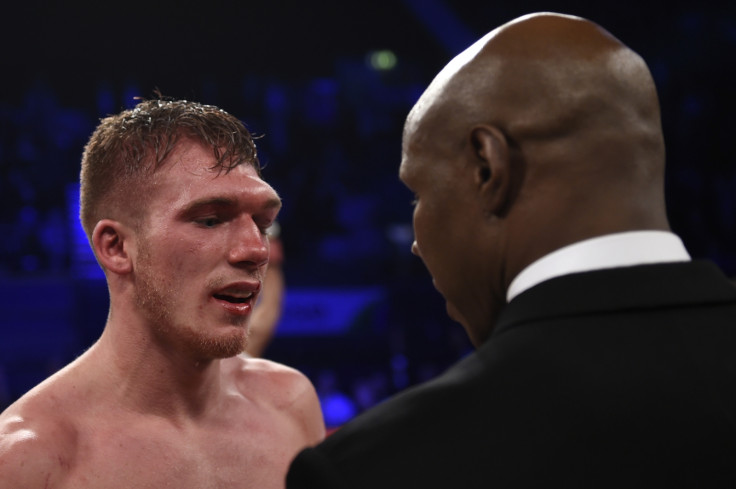 Nick Blackwell has accused the Eubank family of disrespect over their actions following the fight that left the former British middleweight champion fighting for his life. The 25-year-old had to be induced into a coma, such were the injuries he suffered during the bout with Chris Eubank Jr, and did not awaken until a week later.
While Blackwell was recovering in hospital, Chris Eubank Snr and his son held a press conference and pledged their support for the Wiltshire-born boxer. Despite making a full recovery, Blackwell says their actions – which included his opponent celebrating the win with a night out – were reprehensible.
"I was just a little bit disappointed," Blackwell told ITV's Good Morning Britain. "If Eubank was in that situation and he was in a coma I would want to go and see him. The whole thing with them wanting to do a press conference, my family were begging them not to do it and they still went ahead and done it. They said they wouldn't talk about me; they'd just walk about Chris Eubank's future.
"I got told when I woke up. The doctors saved my life. I was induced into a coma 13-and-a-half minutes after being in the ring. I passed out into the ambulance. Only then I flat-lined, so I died for a little while, they injected adrenaline into my heart and I started breathing again. From then I was obviously in a coma."
Eubank Snr admitted after the fight that the contest reminded him of his 1991 rematch with Michael Watson, which consigned the latter to a wheelchair. The ex-WBO middleweight and super-middleweight champion was heavily praised for advising his son his direct his attack away from Blackwell's head, to prevent further serious injury, but the retired fighter has rejected those claims.
"Anyone in boxing knows it is more of a tactical thing, he couldn't hit me in the head so he went for the body to get rid of me," he added. "I haven't got anything against him as a fighter, I think he's a really, really good fighter but as a person, some of the things he said I wouldn't have done."
Blackwell was equally as scathing in an prior interview with The Sun, where he stated he wanted retribution for the actions of the Eubanks. "If I could have one more knockout shot, I'd love to land it on the jaw of Chris Eubank."
He added: "They were trying to make themselves look like the good guys when they are the opposite. My family and friends were begging them not to talk, but they ignored it. I've only just been shown the press conference and I know exactly what happened. It isn't human what they've done. That's the Eubanks, isn't it? They just want attention, no matter if it's a bad or a good thing."