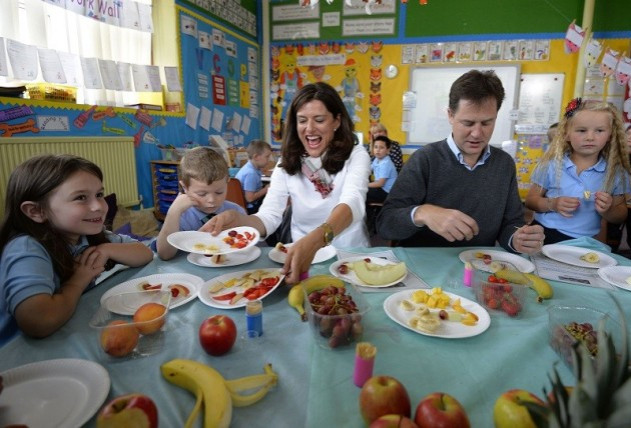 Hundreds of thousands of UK civil servants will be entitled to full parental pay from April next year, according to the Deputy Prime Minister.
Nick Clegg is expected to announce that all 412,000 civil service employees will be entitled to the benefit in a bid to enable more fathers to spend time looking after their new-born babies.
Currently, civil servant mothers get 52 weeks statutory maternity leave and 39 weeks statutory maternity pay, but fathers only have a statutory entitlement to a maximum of two weeks of leave (paid at the statutory amount).
The plan means civil servant fathers, who choose to share parental leave with their partner, will get the same entitlements to full paternity pay just like mums currently get to full maternity pay.
Clegg is expected to say that he wants to "see this change blaze a trail for other public and private sector organisations to follow".
"Your contribution is even more remarkable given that - over the last four years, in the wake of the biggest financial crisis in living memory, with our public services having to absorb significant spending cuts – every public service has had to do more with less," Clegg is expected to say to an audience of civil servants.
"In coalition, we've had to take difficult decisions on pay and pensions as we deal with the deficit – because there is nothing remotely fair or public spirited about saddling our children and grandchildren with those debts."
The announcement comes after Clegg pushed to introduce shared parental leave to the UK last year.
The reform, which means fathers can share 52 weeks of parental leave from April 2015, is designed to enable both parents could choose to take leave and receive statutory pay at the same time or take it in alternating blocks.
But the Institute of Directors (IoD) described the new right as a "nightmare" for employers.
"The IoD understands the case for a system of shared parental leave and how it could help to widen the talent pool available to employers," said Alexander Ehmann, deputy director of policy at the IoD.
He added: "Unfortunately, today's announcements heap yet more burdens on struggling employers at a time when government should be freeing them to create jobs and wealth."