Nick Clegg has called on MPs to force a constitutional crisis in order to halt Brexit, accusing "muppets" in Theresa May's government of destroying UK's international reputation.
Speaking to Politico, the former Liberal Democrat leader said that MPs should reject whatever Brexit deal is put to them later this year.
Exactly what would happen if MPs were to reject the deal is unclear, though Clegg believes it will spark a constitutional crisis that would require Brexit to be cancelled.
Pro-Brexit MPs have argued that to vote against the final Brexit deal would be disregarding the will of the British people - or at least the 35% of the electorate that voted Leave.
Clegg, however, argued that parliament would be within its rights to reject the promises made by Brexiteers, as he believes they are wholly unrealistic.
"When it becomes obvious, as it already has, that the British people are not going to get any - I mean literally none - of that great long list of beguiling promises they were made by the Brexiteers, I think they are totally within their rights to say, 'Well, hang on a minute, we're not going to vote for this because this is not what you told our constituents they were going to get,'" Clegg said.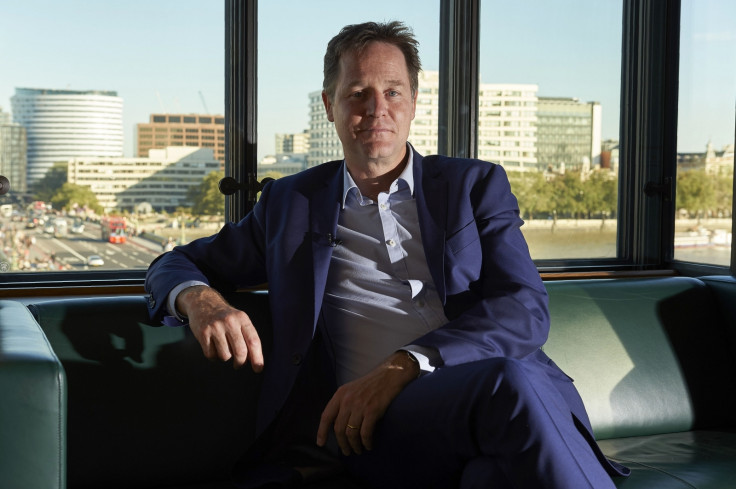 If MPs were to reject the deal, Clegg hopes there would be "a kind of constitutional crisis", requiring the government to "play for time", whether convincing the other EU states to extend the Article 50 timetable or even by withdrawing it entirely. "A lot can be done by consensus," Clegg said.
When asked to comment on Clegg's claims, a Department for Exiting the European Union spokesperson simply told IBTimes UK, "The British people voted to leave the EU and we are delivering on that."
Clegg, who served as deputy prime minister in the 2010-15 Cameron-Clegg coalition government, said: "I think it is impossible to exaggerate the level of cluelessness and incompetence now at the heart of British government.
"I think it's really difficult for folk here in Brussels and in other European capitals to get used to the idea that, you know, to all intents and purposes, the British government now looks like a bunch of muppets sitting around the cabinet table."
Clegg's opinions of backbench Brexiteers were no kinder. He lampooned Jacob Rees-Mogg as "a Don Quixote in pinstripes", and compared pro-Brexit groups to Maoist revolutionaries, "they don't care how many bodies they sacrifice along the way or how much hardship is inflicted on people in the long march".
Having stepped down as Liberal Democrat leader following his party's disappointing showing in the 2015 general election, Clegg lost his Sheffield Hallam seat in the 2017 election. He has since committed himself to campaigning against Brexit, and published a book titled, "How To Stop Brexit (And Make Britain Great Again)".
He was knighted in the 2018 honours list, though said he would not take a seat in the House of Lords, tweeting: "My aversion to unelected legislatures remains."