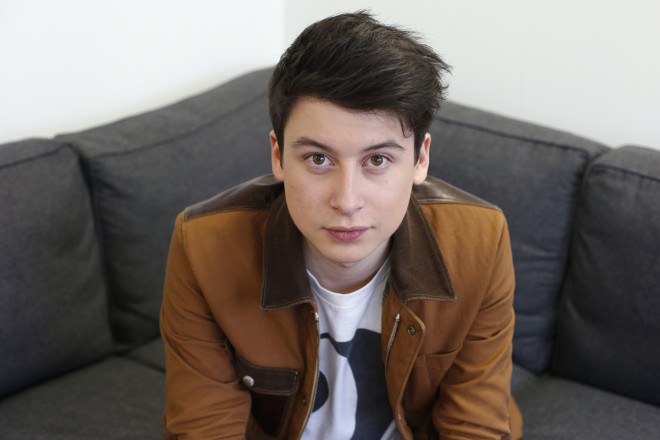 A year after selling his Summly iPhone application to Yahoo for a reported $30 million (£18m), teenage developer Nick D'Aloisio is bringing his creation back home, with the UK launch of Yahoo News Digest.
Working from the bedroom of his parents' home in Wimbledon, south west London, D'Aloisio created Summly when he was 15 years old as a means of delivering high quality news from trusted sources, but in a format that was quickly digestible on a mobile device by users with little free time.
Following the acquisition, and hiring of the teenager as a mobile project manager at Yahoo, Summly was reimagined as Yahoo News Digest in January, and made its UK debut a month later.
---
Embracing failure
---
IBTimes UK met D'Aloisio at Mobile World Congress in Barcelona to learn more about his visions for the future of mobile news, and how becoming a self made multimillionaire at 17 years old has changed his life.
Recalling the days of developing Summly in his bedroom, D'Aloisio stresses the importance of embracing failure. "If I could change anything, I wouldn't because I'm happy. It's really important to embrace failure. Every day [of developing Summly] I thought it wasn't going to happen and every day I felt like that five times. It really was a rollercoaster journey and every day you go from high and low."
The 18-year-old, who is completing his A-levels and plans to go to university in the UK, admits that even now he suffers from "fear and anxiety" with new products he works on at Yahoo. To get over this, he encourages other young developers to have perspective and take a step back by "talking to other people who don't care about tech."
As for the application itself, which is currently exclusive to iOS devices, D'Aloisio reveals he is currently working on an Android version and is looking to extend its reach beyond the US and UK.
"Right now we're looking to target the other big English-speaking markets because of the scale they offer, we'll go where the scale is. [But] definitely in the future, towards the end of this year, these other [emerging, non English-speaking] markets could be very interesting."
---
A sense of completion, like a newspaper
---
Where the internet provides an endless, streaming supply of news 24 hours per day, anywhere in the world, D'Aloisio believes consumers like to reach an end when reading news, in the same way they can physically complete a newspaper.
"The metaphor which relates to a newspaper is that when you get to the back and put it down you know that you've completed it...there is this feeling of finishing and accomplishment that doesn't exist in digital today.
"The feeling you get when you get to the end and you're done - we're trying to replicate that. The goal behind this product is to inform users and if you want to be informed then you want to have that completion. It's not just to meander through stories and kill time, there are other apps for that."
D'Aloisio adds: "This is the model for the kind of user who is on their commute, is busy and wants to be informed in current affairs, but might not be reading the newspapers or magazines in print."
---
Pressure
---
I suggest the headlines his $30 million sale created have put pressure on him, but D'Aloisio disagrees, saying little has changed in the way he works. "I always have, so I don't feel there's any extra pressure. I was determined to get the product out there and I'm proud that I've got it into the UK market in less than a year and it's a direct relation of Summly. I want to continue moving at this pace and innovating."
Looking ahead, D'Aloisio says the education space is something that interests him, and how teaching computer coding to children will be crucial as technology and the internet continue to play a larger role in all of our lives.
"The education space as a whole is something that interests me, generally I'm just fascinated, because I'm still a student, so it's a space I'm aware of and I'm excited to see what happens.
"Maybe in the future I'll take up some of the opportunities [to offer educational advice]."
As for advice on how other teenagers can replicate his success, D'Aloisio praises the wide catalogue of free coding lessons and videos available online. "The great thing about the internet is that there's a lot of free material and you can teach yourself anything. And so I would just say get learning, you're the only blocker. If you're willing to put in the hours, everything you ever need is there."
---
Mistakes
---
But the 18-year-old's rise to fame and fortune didn't happen without its setbacks, and D'Aloisio admits that he made mistakes when he was younger due to inexperience in the world of entrepreneurialism.
"There are lots of mistakes I made along the way and a lot of learning...when I was a lot younger I was sending emails to lots of people and not being aware of the ecosystem in general - I didn't even know what a VC [venture capitalist] was. It's been a trial and error running process but that's the best way."
Going back to how selling Summly has changed him, D'Aloisio is keen to point out how he still has the same friends and lives the same life as everyone else his age - but he closes by thanking the technology industry for not giving its biggest success stories the same pedestal as those in music, film and entertainment.
"I think if it was music or films [my friends] would care more, but because - yeah, they use Facebook and Twitter - they don't know about the industry, and there's not the same amount of press attention, it's a good thing. I enjoy the way it works at the moment. Obviously [my friends] are very proud and they know about Summly, but that doesn't affect my relationship with them."
Better to be a tech superstar than an entertainment superstar, I ask?
"I think so."