DJ Nick Grimshaw has been on the receiving end of abuse from irate One Direction fans after listeners thought he was mocking Louis Tomlinson on his BBC radio show.
The 29-year-old DJ was discussing "annoying' celebrities" on a segment of the show, asking who was more annoying than BRIT Award-winner Lorde.
A series of celebrities were named by Grimshaw, including Usher, Joey Essex and Kelly Osbourne. The show's producer, Ian Chaloner, mentioned Louis Tomlinson's name.
Within a few hours, Grimshaw became the target of Twitter trolls who bombarded the openly-gay presenter with homophobic comments and threats of violence against the TV personality.
Defending their idol one angry fan wrote: "When is Louis Tomlinson gonna punch Nick Grimshaw in the face?"
Grimshaw was forced to post a message on Twitter in a bid to appease the singer's fans.
"hey 1D fans!!!!! i never mentioned the word 'Louis' on my show today so enough with the charming homophobic death threats yeh?" he tweeted.
Tomlinson himself joined in the Twitter row claiming that he preferred Grimshaw's Radio 1 predecessor Chris Moyles.
His girlfriend, Eleanor Calder, joined the discussion in response to a fan tweeting the message: "I never liked Grimmy anyway."
"Me neither!" tweeted Calder.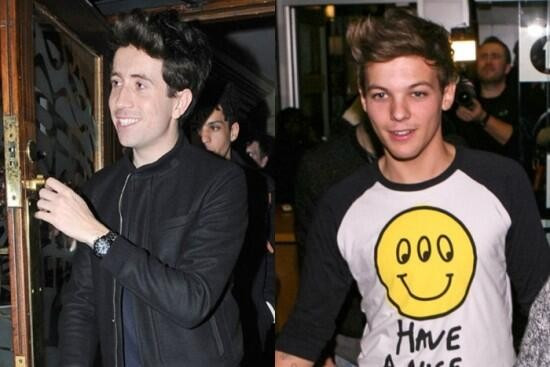 Grimshaw, is known to be close friends with the singer's 1D band mate Harry Styles, but has previously fallen foul of Tomlinson after describing him as "complainy" because he was upset that he couldn't leave his home because of paparazzi.
One Direction's fans are widely credited with being a key factor in the band's success and they are famed for ferociously defending the band members.
Tomlinson acknowleges the fans on his Twitter profile saying: "We would be nowhere without our incredible fans, we owe it all to you."