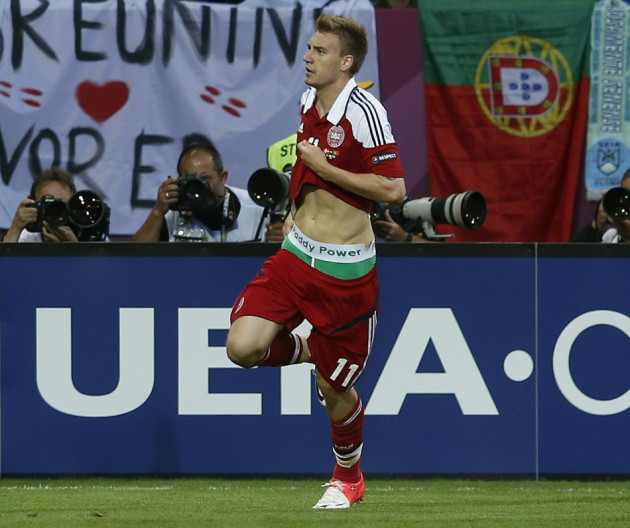 Nicklas Bendtner has been fined €100,000 (£80,000) and banned for one competitive fixture for flashing sponsored waistline on his underpants while celebrating his Euro 2102 goal against Portugal.
The Denmark striker pulled up his shirt to reveal green boxer shorts with the words Paddy Power - name of an online betting company - written on them after scoring his second goal of the night in a game Denmark went on to lose 3-2.
A statement from Uefa said: "Following the opening of disciplinary proceedings concerning the improper conduct of Denmark's Nicklas Bendtner at the Uefa Euro 2012 Group B match against Portugal in Lviv on Wednesday 13 June, the Uefa Control and Disciplinary Body has decided to suspend the player for one competitive fixture.
"This suspension applies to the next 2014 Fifa World Cup match, including the qualifying competition, for which Bendtner is eligible. The player has also been fined €100,000."
The Arsenal striker, who spent the last season on loan at Sunderland, has three days to lodge an appeal.
If he does not appeal, Bendtner would miss Denmark's opening game in World Cup 2014 qualifying.
According to Law 4 of Uefa's Laws of the Game, a player: "Must not reveal undershirts which contain slogans or advertising.
"A player removing his jersey to reveal slogans will be sanctioned by the competition organiser."
Article 18.18 of the Regulations of the UEFA European Football Championship 2010-12 also states: "All kit items worn during the final tournament must be free of any sponsor advertising."
When asked about the incident, Bendtner, 24, said: "It is just a pair of lucky boxer shorts that I used in the first game as well and have used before the tournament. I didn't know I was breaking any rules but I am aware of that now."
Paddy Power responded to Bendtner's fine, saying: "This is a hysterical and deeply cynical move by UEFA dictated by pure commercialism and is a far greater penalty than recent UEFA fines for far more serious incidents. We will offer NB our full support for his appeal. We are appalled with the severity of Nicklas Bendner's fine for displaying PP on the waistband of his lucky underpants"
The fine is almost as much as the £96,000 Russia were fined after their fans attacked stewards during their heated match Group A match against Poland.
Porto were also fined just £16,700 after their fans racially abused Manchester City striker Mario Balotelli during their last 32 Europa League fixture on 16 February.