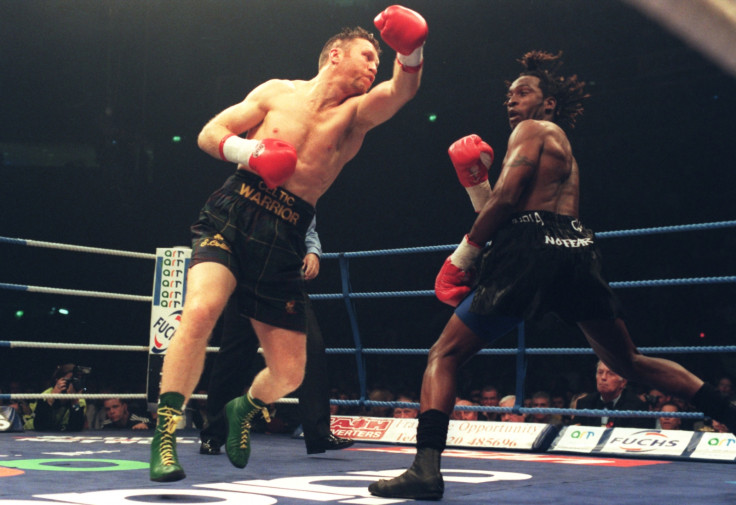 Nigel Benn has turned his attention away from Chris Eubank to fight Steve Collins for a third time in a bout he feels he needs to give him closure on his boxing career.
Benn, 53, has announced his decision to come out of retirement to take on the man who beat him in the final two fights of his career in 52-year-old Collins.
The former WBO middleweight champion's desire to step back into the ring after a 21-year absence is nothing new. Last year, he told IBTimes UK that he was committed to fighting old foe Eubank for a third time following their memorable bouts of 1990 and 1993.
But he now has his eye on another trilogy fight with Dubliner Collins, the last man to beat him over two decades ago.
Both men face hurdles in getting the fight to happen as it is unclear if the British Boxing Board of Control (BBBoC) will sanction it.
When asked by Sky Sports News HQ whether he will try to obtain a boxing licence from another country, Benn said: "One hundred per cent, because what it is, I need closure and the reason I need closure is for like four or five years long they are saying it's passed, but it hasn't."
"The Dark Destroyer" maintains a third Eubank fight has been an option.
"It's still in me and I'm doing things I have never done before," he added. "I feel in tip top condition and it's not about money. If it was about money, I could have trebled my money fighting Mr Eubank. I went to Steve 'how do you feel like a fight?' and Steve went 'Yeah, when?' No mucking around, straight to the point.
"For me, I don't care if it's Eubank, I don't care if it's Steve, I just need closure and once I get closure, that's it boom. I can go back to working for Jesus."
Collins was the man who ended Eubank's unbeaten record to win the WBO super-middleweight belt in 1995 before successfully defending the title seven times, including twice against Benn.