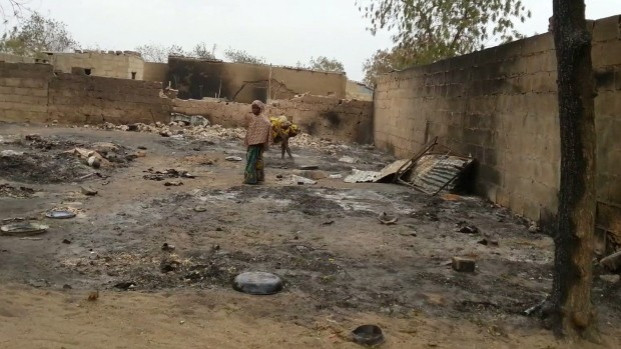 Intense fighting between Nigerian troops and Islamist radicals has killed at least 185 civilians in Baga, a town in the nation's far northeast.
Officials confirmed that insurgents fired rocket-propelled grenades and soldiers sprayed machinegun fire into the remote fishing community near the border with Chad for hours on Friday evening.
Over 2,000 homes were reportedly destroyed in the attack, which caused many of the deaths.
Many residents were forced to flee into the arid scrublands surrounding the community on Lake Chad after the conflict began on Friday.
When they returned on Sunday they found their homes, businesses and vehicles left burned throughout the area as a result of the destruction. Human and animal corpses are said to be strewn through the streets.
Authorities have reportedly found and buried the bodies of at least 185 people thus far.
"Everyone has been in the bush since Friday night; we started returning back to town because the governor came to town today," resident grocer Bashir Isa said.
"To get food to eat in the town now is a problem because even the markets are burnt. We are still picking corpses of women and children in the bush and creeks."
Despite the growing number of casualties, the army is apparently 'playing down' the number of people killed in clashes with militants.
Borno state military spokesman Lt Col Sagir Musa told the AFP news agency that the death toll was was "unthinkable".
"On my honour as an officer, nothing like that happened," he said.
The attack comes as the long-running Boko Haram insurgency Nigeria faces in its predominantly Muslim north continues to escalate.
Boko Haram, which means "Western education is sacrilege" in the Hausa language, has killed thousands of people since 2009.
The extremists, who apparently plotted a coordinated assault on soldiers using military-grade weaponry, want their imprisoned members freed and Nigeria to implement strict Shariah law across the multi-ethnic nation of more than 160m people.
While the administration of President Goodluck Jonathan is considering offering an amnesty deal to extremist fighters, the nation's weak central government has been unable to stop the killings.