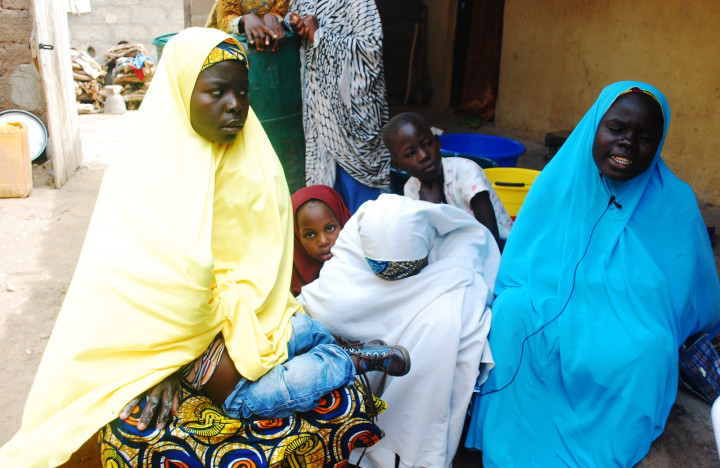 Boko Haram's leader has denied agreeing to a ceasefire with Nigeria's government, saying that all 200 kidnapped schoolgirls have been married off or converted to Islam.
The leader of Nigeria's Islamic extremist group Abubakar Shekau said, "The issue of the girls is long forgotten because I have long ago married them off."
"In this war, there is no going back," he said in a video received by the Associated Press.
"All of them have accepted Islam and are now married," he added. "Anybody that said plans are underway for the release of the girls is just daydreaming. They would not be returned."
In the message, Shekau also said no ceasefire had ever been reached. "Who agreed to a ceasefire? You are not serious."
Shekau said in a video last year that his group kidnaps because the military is holding members of Boko Haram families. Nigeria's military and police are detaining family members of wanted people, even though it is illegal, according to human rights groups.
Human Rights Watch said students who had escaped from Chibok have received counselling and medical care.
One of the girls said: "I just want someone who will listen to me and help me to stop the fear that takes over my mind when I think of my sisters [schoolmates] who are still with Boko Haram. I am so afraid for them. Why can't the government bring them back?"
Nigeria's chief of defence staff, Air Chief Marshal Alex Sabundu Badeh announced on 17 October that Boko Haram had agreed to an immediate ceasefire to end a five-year insurgency that has killed thousands of people.
But attacks and abductions have continued, with the extremists this week seizing Mubi, a town of more than 200,000 people. Fighting also continued Friday in Vimtin, the nearby village where the chief of defence was born.
Boko Haram is split into many groups, so it is unclear if the government has negotiated with one group while others may not have agreed to the ceasefire.
The Nigerian militant group wants to establish an Islamic caliphate, similar to Isis (Islamic State) in Syria and Iraq. There are reports from people who have fled that hundreds of people are being detained for violations of strict interpretation of Shariah law Boko Haram enforces in towns and villages under its control.
Rather than curb the Islamic group's fondness for kidnapping, the abduction of the schoolgirls "appears to have emboldened Boko Haram to step up abductions elsewhere," Human Rights Watch reported.