The 21 Chibok school girls freed by Boko Haram in October said the militants did not abuse or rape them during the more than two years of captivity, a confidential government report revealed. It stated that State health workers in Nigeria confirmed the girls tested negative for sexually transmitted diseases.
The girls are reportedly being held in a secret location in the Nigerian capital Abuja for assessment. The government report is based on the girls' two-week debriefing prepared for President Muhammadu Buhari.
"The girls said the Boko Haram men always assured them that they would eventually go back home to their families, and were careful about what they said around the girls and how they treated them," a source told the Thomson Reuters Foundation.
"They had been fed well and regularly, until the military cut off Boko Haram supplies," the government source added.
The person also said that the girls said they were offered to marry Boko Haram fighters and convert to Islam, but were never forced to comply. "The girls said that those of them who did not agree to marry were used as house girls (servants)," the person told the news agency.
The girls, when showed photographs of the 142 other missing Chibok schoolgirls, said that 61 of them had married Boko Haram militants, eight had died during Nigerian air force strikes, three during childbirth, and one of an unknown cause, the report stated.
The source said that the girls even recognised almost all the faces of Boko Haram members on a government most-wanted list, but could not tell their names. They also said they never saw the chief of the militant group, Abubakar Shekau.
The Islamist militant group is known for brutal killings in and around Nigeria, and many humanitarian groups, including Amnesty International, have blamed them for abducting women and using them as sex slaves as well as suicide bombers.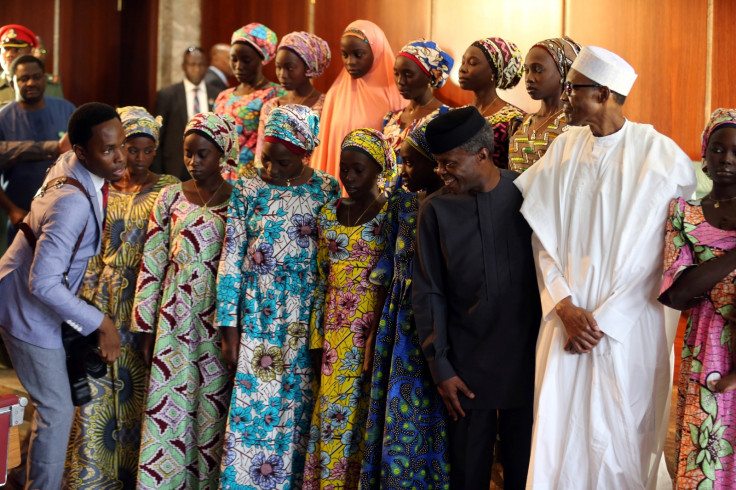 They abducted more than 300 girls in April 2014 from a school in Chibok in Nigeria's Borno state. Some girls had managed to escape their captivity soon after the kidnapping. The government has been trying to negotiate the release of the over 200 captive girls, but succeeded only in October to free these 21 girls after Switzerland and the Red Cross brokered a deal with the militants.
Negotiations are reportedly ongoing for the release of another 83 Chibok girls.