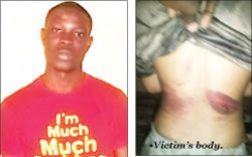 A Nigerian man who allegedly kidnapped and raped a woman student from the University of Lagos has been arrested after posting images of her semi-naked and bloodied body online.
Babajide Bashorun, a 22-year-old dog breeder, has been accused of sexually assaulting the woman after she refused to date him.
According to police, he took pictures of the victim's body after the attack and posted them on the internet days later.
The images, which show the student's bruised and bleeding back, are said to have also included the girl's name and surname, her university, age and department.
A source told news site Punch that her parents contacted the police after relatives abroad saw the pictures and called them.
"People were stopping her on the campus to tell her they had seen her nude pictures on the internet," the source said.
"The girl's relations later saw the pictures and urged her parents to report the matter."
Investigators were hunting two male undergraduates of Unilag, who are believed to be Bashorun's accomplices.
Bashorun, who was being held on kidnapping and rape charges, denied attacking the victim. He said she was his long-time girlfriend.
"She is my girlfriend. I wanted to buy an iPad for her. She came to my house to collect the money on that day. We had argument and I used floor mop to hit her on her back," he said.
"I took her pictures. I sent the pictures to my friend but I didn't tell him to post the pictures on internet."