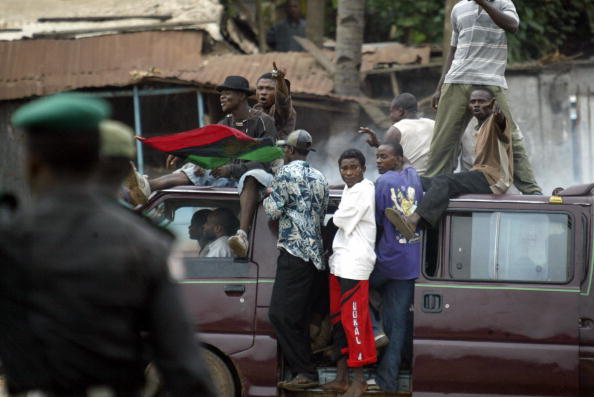 A Nigerian radio station that calls for the independence of the Biafra state has announced it is still broadcasting despite the government's claim that National Broadcasting Commission (NBC) had managed to jam the station's signal.
During a meeting with President Muhammadu Buhari, Dr Yemi Folasade-Esan from the Ministry of Information said the National Broadcasting Commission (NBC) had managed to jam the signal of Radio Biafra.
"NBC is also working with security operatives to get those that are behind that radio because it is an illegal radio," she was quoted as saying. "It is not licensed by anybody to be on the airwaves in Nigeria."
However, shortly after Folasade-Esan's statement, Radio Biafra wrote on Twitter that the station was live.
IBTimes UK tried to contact Radio Biafra but has not received a response at the time of publishing.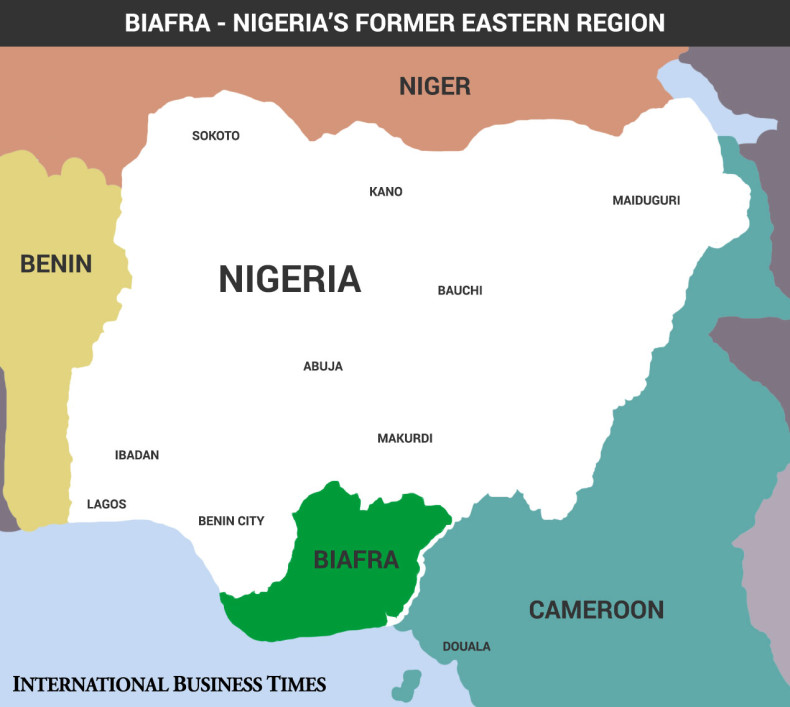 Biafra history
The Eastern Region, a former federal division of Nigeria with capital Enugu, became a secessionist state called Republic of Biafra after gaining independence from Nigeria in 1967. It was re-annexed in 1970 following the Nigerian-Biafran war that claimed one million lives.
After the end of the British rule in 1960, Nigeria consisted of territories that were not part of the nation before the colonisation, resulting in escalating tensions among the communities. People in the Eastern Region, mainly from the Igbo community, wanted to secede due to ethnic, religious and economic differences with other communities in Nigeria.
The Eastern Region gained independence following two coup d'etats in 1966 and 1967. The fact that Nigeria's oil was located in the south of the country played a major role in the eruption of the war, during which medicine and food shortages in Biafra led to the death of thousands of people.
Biafra has been commonly divided into four main "tribes": the Igbos, the Ibibio-Efiks, the Ijaws and the Ogojas.
The modern-day states that make up Biafra from the eastern region and midwest are: Abia, Anambra, Akwa Ibom, Bayelsa, Enugu, Ebonyi, Imo, Delta, Rivers and Cross River, and Edo.
According to Nigeria Daily Post, a man named Nnamdi Kanu who is believed to be behind the radio station, dismissed NBC's claim and confirmed Radio Biafra was still broadcasting.
A statement published on the Biafra Herald read: "Radio Biafra is live in BiafraLand. They cannot even jam our local station, do they even know we also transmit via satellite and online as well?"
Pro-Biafra movements
Hundreds of people from Nigeria's former Eastern Region – renamed Republic of Biafra during a three-year-long independence between 1967 and 1970 – are calling for independence and are accusing Buhari of trying to Islamise the southern part of Nigeria, mainly inhabited by Christians.
Pro-Biafran movements are scattered across southern Nigeria. The Movement for the Actualization of the Sovereign State of Biafra (Massob) fights for the independence of south-east and south regions of Nigeria.
The Nigerian government has accused Massob of violence and its leader, Ralph Uwazuruike, was arrested in 2005 on treason charges. He was released two years later.
The Biafra Zionist Movement (BZM), led by Barrister Benjamin Onwuka, was created in the early 2000s. It spun out of Massob, and advocates the legitimacy of Biafra.
BZM declared a new state of independence on 5 November 2012, at an event during which at least 100 peaceful protesters were arrested.
In 2014, BZM stormed a radio station announcing the rebirth of the Biafran Republic.
In a statement released after the incident, the group explained it had lost faith in the country following years of neglect and continuous killing of Igbos (an ethnic group of south-eastern Nigeria).
"No amount of threats or arrests will stop us from pursuing our freedom – self-determination for Biafrans," said Edeson Samuel, national chairman of BZM. "We were forced into this unholy marriage but we don't have the same culture as the northerners. Our religion and culture are quite different from the northerners."
In a previous interview with IBTimes UK, government's spokesperson Mike Omeri defined pro-Biafran protesters as an "insignificant number of frustrated people who are not a threat to the existence of Nigeria".
He added: "Nigerians do not see this movement as a threat or a problem. In fact, I am not sure their voices are loud enough to attract attention. It is better that we do not celebrate that kind of view that is not really strong."