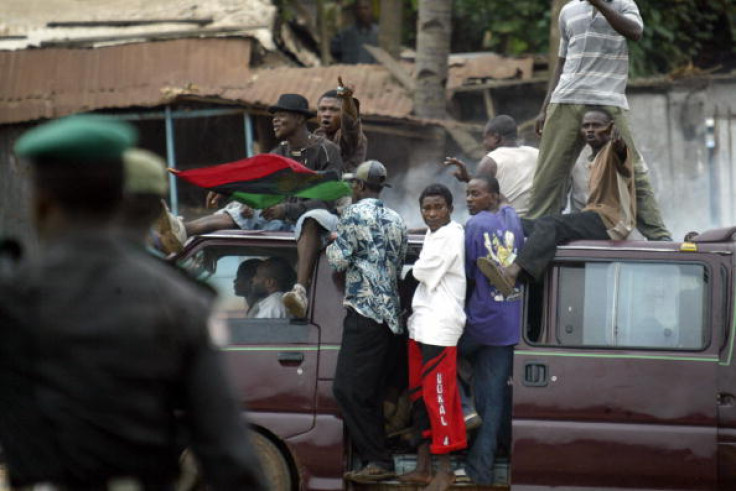 "I have never considered myself a Nigerian, always a Biafran," David Chidiebere from Nigeria's Imo state told IBTimes UK during a discussion about why thousands of people in southern Nigeria are calling for independence.
Chidiebere was born after Biafra was re-annexed to Nigeria in 1970 and learnt about the struggle of his ancestors from his father. Today, he believes Biafrans should separate from Nigeria.
"They [government] want us to be one Nigeria, but why hasn't an Igbo or Biafran been the president of the country since the end of the war? We have the oil but they ares the one who are squandering the money."
Chidiebere explained that the fight for an independent Biafra is not just about natural resources.
"We Biafrans don't want to be in the same country with people we don't share the same mentality, religion, culture, language, accent or way of life with," he said.
"We are being marginalised everywhere, we are the Israelites of Africa."
London-based Yahgozie Emmanuel, member of Ekwenche research institute and editor of Biafra24 told IBTimes UK that following the re-annexation, Biafran communities were separated.
"Biafra was known as a provincial system which didn't recognise any of the states created by Nigeria and its agents," he said.
"In 1970 Nigeria divided the people to decentralised the unity of Biafrans. We believe that the 36 States and 774 Local Government structure imposed via decrees by officers from the occupational government of Nigeria render the people of Biafra an insignificant minority."
Emmanuel referred to a so-called "amalgamation contract" aimed at integrating people from the north and the south within 100 years since it was issued. The contract, now at the National Archive of London, was created in 1914 by the then governor general of Nigeria Frederick John Dealtry Lugard. The document, opposed by the political class and the media in Lagos, expired in 2014.
"This means that the component parts of what was Nigeria can now go their ways," Emmanuel said and added that Biafrans feel threatened by terror group Boko Haram and what they see as the attempted 'Islamification' of southern Nigeria by the current government.
"We Biafrans continue to strive for survival under harsh condition, forced exiles. Gatherings of Biafrans and places of Christian worship in the northern part of the country are regular targets of Islamic terror, spearheaded today by Boko Haram.
"The several mentions of sharia in the constitution in the face of Section 10 of the same document that prohibits adoption of state religion, has left a leeway for several states in the far north to impose sharia, which in turn activated Boko Haram, which owes it an obligation to their faith to kill the 'infidel', a category to which we the Biafrans fall, in their warped estimation."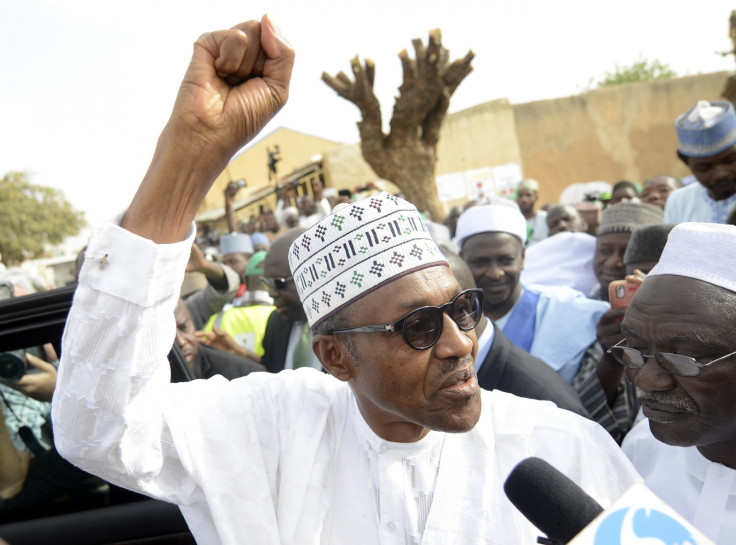 Boko Haram, Buhari and Biafra
Nigeria's President Muhammadu Buhari is a former military chief who served in the Nigerian Army from 1961 until 1985. He is accused of committed crimes in Biafra.
According to some reports, he headed military operations in Nsukka, Abagana and Nkpor Junction in Biafra where soldiers, under his leaderships, allegedly destroyed villages and attacked civilians.
Emmanuel said Biafrans are not happy with Buhari as president. He described the new leader – who was elected in March 2015 and sworn in in May – as: "A known sympathiser of the sharia whose role in the 1966-1970 genocidal campaigns against the peoples of Biafra remain starkly unaddressed and presents a grave concern to our peoples."
Earlier in June, dozens of citizens in the Anambra state, part of former Biafra, rallied after rumours spread that 47 Boko Haram suspects could be transferred to Ekwulobia Prison in Aguata Local Government Area.
People took to the streets to protest against the alleged relocation and shut their shops in several cities including the capital Awka, Onitsha, Nnewi, Ekwulobia and Agulu. Protesters called for Biafra and carried banners reading: "Buhari should not destroy the peace in Anambra State" and "We do not want Boko Haram in Anambra".
The government denied the alleged plan to relocate the Boko Haram suspects. However, Francis Chukwu, a resident from Onitsha city, Anambra, told IBTimes UK: "Reports are real. Even yesterday, one [Boko Haram member] was caught in Nkpor town with some bombs."
Protesters also took to social media to complain about their perceived attempt to "Islamise" the south by relocating terror suspects to a southern prison.
The Nigerian government was not available for comments regarding the claims made by pro-Biafrans.
Pro-Biafra movements
Movements that call for a secession are scattered across southern Nigeria. The Movement for the Actualization of the Sovereign State of Biafra (Massob) fights for the independence of south-east and south regions of Nigeria.
The Nigerian government has accused Massob of violence and his leader, Ralph Uwazuruike, was arrested in 2005 on treason charges. He was released two years later.
The Biafra Zionist Movement, led by Barrister Benjamin Onwuka, was created in the early 2000s. It spun out of Massob, and advocates the legitimacy of Briafa.
BZM declared a new state of independence on 5 November 2012, at an event during which at least 100 peaceful protesters were arrested.
In 2014, BZM stormed a radio station announcing the rebirth of the Biafran Republic. In a statement released after the incident, the group explained it had lost faith in the country following years of neglect and continuous killing of Igbos.
"No amount of threats or arrests will stop us from pursuing our freedom – self-determination for Biafrans," said Edeson Samuel, national chairman of BZM.
"We were forced into this unholy marriage but we don't have the same culture as the northerners. Our religion and culture are quite different from the northerners."
Nigeria up close: Check out our Flipboard magazine