Witnesses have spoken out and described the five girl suicide bombers involved in the bomb blasts in Maiduguri, Nigeria, while the country was marking the 55th anniversary of its Independence Day on 1 October.
At least 14 people including the girls were killed, with 39 others sustaining injuries, after multiple explosions struck the Borno State capital in northern Nigeria. In exclusive footage obtained by IBTimes UK, witnesses on the scene describe the carnage.
"Yesterday at about 7.30pm, we were sitting by a rail line crossing, four females came in with bombs. One of them grabbed a man over there, they wrestled but the man was able to break free and ran away from her. Another man sat here. It was her blast that killed the meat seller," said Zarami Ajilari, a local resident.
Ahmed Muhktar, a member of the Civilian Joint Task Force, a group of vigilantes combating terrorism in the area, says the girls directly targeted the group's chairman.
"They came at about 7.30pm, with the girl knocking on his door calling out 'chairman! chairman!'," he said. So he rushed out with other neighbours towards here, the bomb exploded. The explosion injured around is hands and legs, he was over there while she was around here."
A shop owner, who would only give the name "Maidangi", described the age and appearance of the female suicide bombers. "One girl called my name. I asked her to leave the place. She then detonates the bomb here and it injured my neighbour. The girls was about 11 years old and she wore a black hijab and trousers," he said.
Sajeri resident Mallam Bulama was not present at the time, but found out afterwards that his son had been killed in the explosion. He said: "When I heard about the bomb, I rushed down here because my children lived in this community. On my way, I saw the chairman of the Civilian Joint Task Force being carried on a wheelbarrow to the hospital. When I got here I saw my son lying lifeless on the ground."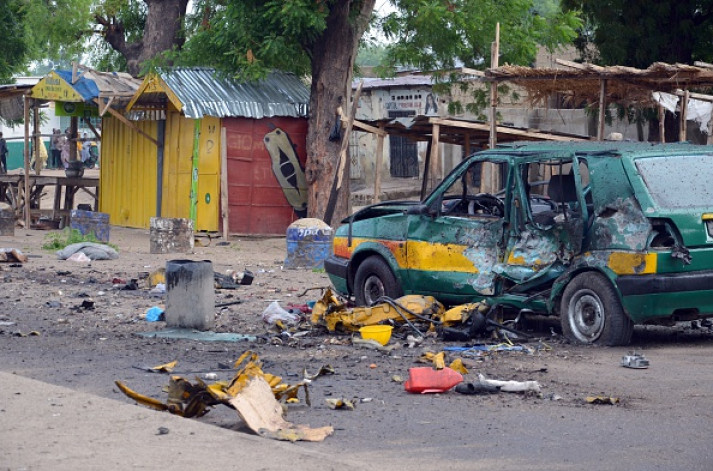 A source at the State Specialist Hospital in Maiduguri confirmed rescue workers have so far deposited 17 corpses and several other injured victims. The bombings come after more than 100 people died in similar attacks in the city two weeks ago.
Borno is the birthplace of terror group Boko Haram, which fights to overthrow the current leadership and establish an Islamic caliphate.Maiduguri, Borno's capital, is the epicentre of the insurgency and it is attacked almost on a weekly basis.
Boko Haram has not claimed responsibility for the attack, however the group is renowned for kidnapping civilians, mainly women and children, and forcing them to become suicide bombers.