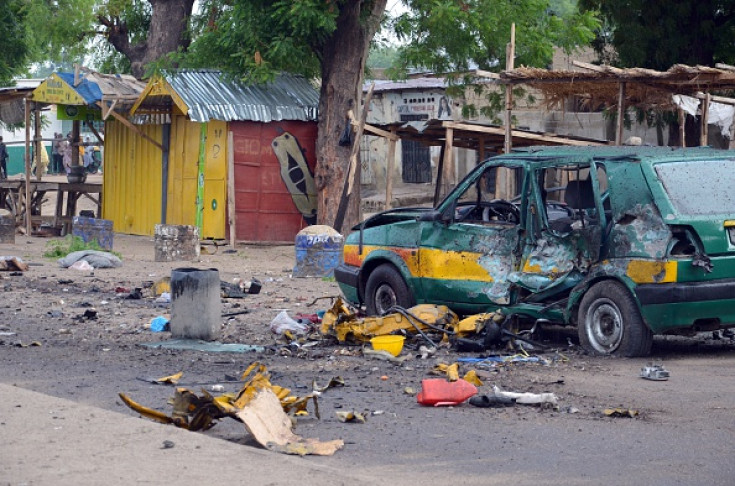 A series of blasts rocked the town of Maiduguri in the restive Borno state of northern Nigeria, while the country was marking the 55th anniversary of its Independence Day on 1 October. It is not yet clear how many bombs went off, but witnesses said that at least two explosive devices were strapped to girls.
Borno is the birthplace of terror group Boko Haram, which fights to overthrow the current leadership and establish an Islamic caliphate. Maiduguri, Borno's capital, is the epicentre of the insurgency and it is attacked almost on a weekly basis. Boko Haram has not claimed responsibility for the attack, however the group is renowned for kidnapping civilians, mainly women and children, and forcing them to become suicide bombers.
"[At least] five successive explosions have rocked the area of Sajeri, near Ngomari" Ahmed Bolori, ambassador for peace and Maiduguri coordinator for the Fa'ash Foundation, told IBTimes UK: "There have been some casualties, but not all the blasts have affected people. The explosions occurred between 7:30pm and 7:36pm."
It is not yet clear how many people have been killed in the attacks. A member of the police, who spoke on condition of anonymity, told AFP: "In all, there were about seven explosions but we are trying to get the details. I cannot tell you the casualty figures for now."
Nigeria is leading a new task force against Boko Haram – consisting of 8,700 troops from Nigeria, Niger, Chad, Cameroon and Benin – which is believed to have scored some successes, such as the recapture of a key town in Borno.
The latest attack came as the government alleged that the terrorists are surrendering, while the group said in an audio message that claims made by government and army are false. The person heard speaking in the audio is believed to be the group's leader, Abubakar Shekau, who is rumoured to have been replaced due to his repeated absence from the group's videos.
In August, Chad's President Idriss Deby alleged Mahamat Daoud had replaced Shekau as the leader of Boko Haram. Shortly after, Shekau released an audio message denying the claim. Some analysts have also alleged that since the group pledged alliance to the Islamic State (Isis) terror group, Shekau has stepped aside as Boko Haram now takes orders from IS leaders.
'Despite terrorism, we have reached maturity'
The Fa'ash Foundation works to lift Nigerians out of poverty, assist needy people and prevent unemployed youths from being recruited by Boko Haram. The organisation was founded in 2012 by two sisters, Hajiya Fatimah Mohammed Dikwa and Aishatu Mohammed, who dedicate their lives to helping needy people in Nigeria. The NGO's headquarters are in the capital Abuja, with a regional office in Maiduguri, capital of restive Borno state.
Bolori delivered a message to the community in Maiduguri to mark Independence Day. Here is his full speech: