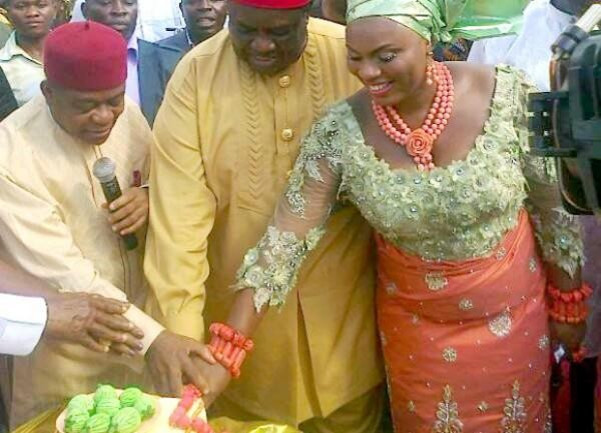 A 72-year-old Nigerian billionaire has courted controversy after getting married to a woman almost 50 years his junior.
Emmanuel Iwuanyanwu, a politician, statesman and chairman of the Champion Newspaper, tied the knot with 26-year-old Frances Chinonyerem Enwerem in a traditional ceremony in Owerri, Imo State.
The wedding comes two years after Iwuanyanwu, who is one of the richest men in Nigeria, lost his wife of 40 years, Eudora, to cancer.
His new wife, who is reportedly pregnant with the couple's first child, is the daughter of one of Iwuanyanwu's late wife's close friends.
However, in the wake of their lavish nuptials, the couple have faced fierce criticism from the Nigerian community who branded the union immoral.
Some critics have even dubbed the bride Nigeria's Anna Nicole Smith, and accused her of using the extremely rich businessman for his money. Iwuanyanwu's children are yet to offer the couple their blessings.
"This is strictly for the money,"one commentator said. "Does she want to call it love? Why will the children support such a marriage. Sharp girl - it was all planed out. Not worry when then man die..you go marry one young guy.."
Another wrote: "Money talks, bulshit walks! May God keep me alive, than to allow another woman to reap d fruits of my labour."
Iwuanyanwu has various businesses spanning over 20 sectors of the economy. He is the founder of the Iwuanyanwu Football club now known as the Heartland FC.