Nigeria's President Muhammadu Buhari has expressed concern over the deterioration of security in war-torn South Sudan. The leader made the comment as he met the South Sudanese ambassador, Paul Malong Akaro, in Nigeria's capital Abuja.
"I was a little disappointed with the subsequent developments in your country. I was hoping that we can move forward and develop the great potentials of your country after the peace accord," Buhari told Akaro, according to the Vanguard newspaper.
"The African Union will continue to hold your leaders to account in implementing the peace process. And the leaders should be able to accommodate one another for the good of your people,'' the president said.
He added the peace process in South Sudan would be more effective if implemented by South Sudanese leaders without external intervention.
In response, Akaro said the South Sudanese government was committed to implementing a peace deal signed by warring sides in August 2015.
Buhari's remarks came days after reports warned the civil war in South Sudan, erupted in 2013, has now extended to areas of the country previously considered safe.
South Sudan conflict
South Sudan became the world's newest nation when it declared independence from Sudan in 2011. However, the country descended into civil war in 2013 when President Salva Kiir, of the Dinka ethnic group, fired his deputy , and rebel leader, Riek Machar – from the Nuer group – and his cabinet.
Ethnic-related violence spread, with militia groups carrying out attacks in villages and areas known to be inhabited by either the Dinka or Nuer tribes. An estimated 50,000 people have been killed.
The conflict, originally concentrated in and around the capital Juba, later spread to other areas in the country.
Kiir and Machar have agreed on several peace deals, but have failed to control their troops, who have broken every ceasefire signed since 2014.
Machar, who leads the opposing faction Sudan People's Liberation Movement-in-Opposition (SPLM-IO), originally left South Sudan in 2013.
His return and his reinstatement as vice president in April 2016 had restored hopes for the implementation of the peace process. However, Machar fled South Sudan following deadly fighting that left at least 300 people dead in Juba in July.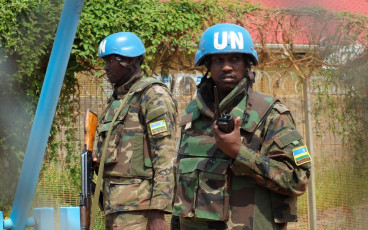 War, famine and abuses
Latest estimates suggest at least 4.6 million people across the country are facing hunger, amid fears food crisis might deepen as the conflict has now spilled into the Equatoria region – where Yei is located – considered one of South Sudan's breadbaskets.
Both warring sides have been accused of committing crimes against humanity including rape, torture and the use of child soldiers.
A recent UN probe concluded its mission in South Sudan (Unmiss) failed to protect civilians in July due to "a lack of leadership on the part of key senior mission personnel".
The probe resulted in the sacking of Unmiss chief, a move than angered Kenya, which decided to withdraw its troops from the UN peacekeeping mission. Earlier in November, the US announced it would support a UN-proposed arms embargo in South Sudan, something Russia opposed to.