Riek Machar says peace deal can save South Sudan as violence spreads and millions flee
EXCLUSIVE: IBTimes UK talks to rebel leader and ousted vice-president Riek Machar on war and peace in South Sudan.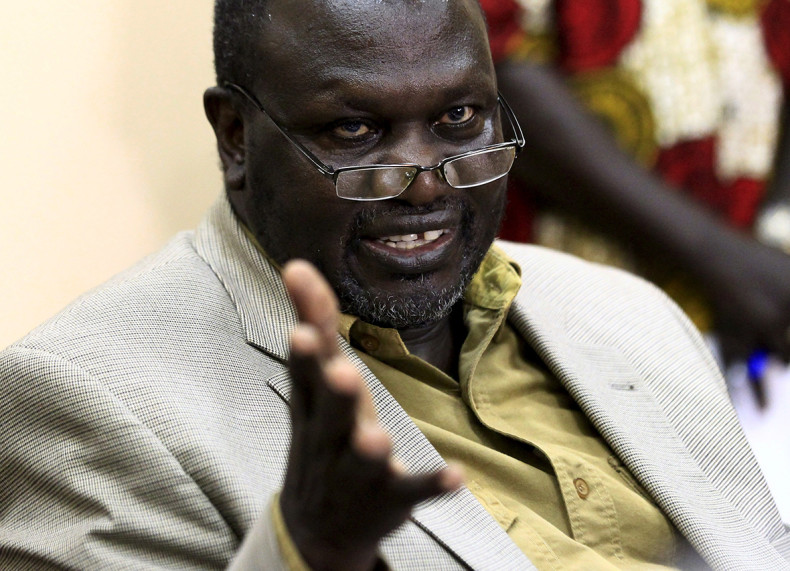 South Sudan became the world's newest nation when it declared independence from Sudan in 2011. However, the country descended into civil war in 2013, when President Salva Kiir – of the Dinka ethnic group – fired his deputy and rebel leader Machar – from the Nuer group – and his cabinet.
Ethnic-related violence spread, with militia groups carrying out attacks in villages and areas known to be inhabited by either the Dinka or Nuer tribes.
An estimated 50,000 people have been killed, hundreds of thousands are either facing starvation in the country or have fled, amid allegations of crimes against humanity committed by both sides, including rape, torture and the use of child soldiers.
Kiir and Machar have agreed on several peace deals – the last of which was signed in August 2015 – but have failed to control their troops, who have broken every ceasefire signed since 2014.
Machar, who leads the opposing faction Sudan People's Liberation Movement-in-Opposition (SPLM-IO), originally left South Sudan in 2013.
His return and his reinstatement as vice president in April 2016 had restored hopes for the implementation of the peace process. However, Machar fled South Sudan following deadly fighting that left at least 300 people dead in Juba in July.
The rebel leader accused government forces of opening fire on his troops, and said he would return to the capital once a third-party force was deployed to ensure his and his officials' safety. He was replaced by Taban Deng Gai, a former ally of his.
Speaking on the phone from South Africa, where it is believed he received medical treatment, Machar told IBTimes UK he is willing to go back home and work with the government to ensure peace is restored in the war-torn country.
What is your position on your dismissal as vice-president and Gai's appointment?
The replacement was illegal. When I left Juba, I did not do it because of my choice, I was being threatened. We were pushed outside of Juba by force of arms. But I told the president [Kiir] it would be good to meet to resolve the issue, because my personal conviction is that the peace agreement is the salvation of South Sudan. I also told the president that general Alfred Ladu Gore would act as vice-president in my absence. But then the president appointed Gai to be the chairman of SPLM-IO. It is a plot, and I believe that those who designed the agreement, they did not design it to implement it. They wanted to liquidate people like me.
Gai accused you of frustrating the peace agreement and blamed you for the problems South Sudan is facing. What do you think about his claims?
Taban is lying and this is because he has joined the other side. I went to Juba to implement the peace agreement, but when I arrived there, I was nearly assassinated in the state house, because the president, as you know, does not want the peace agreement. If you recall, I was the first to sign the peace agreements in Addis Ababa on 17 August 2015. He [Kiir] was present, he refused to sign. Nine days later, he signed it in Juba, but had some reservations. He also told Al Jazeera the agreement was not implementable. But when I was interviewed, I said the agreement was implementable, even if we had issues and disagreements.
Do you think an agreement based on power sharing can work in South Sudan?
Yes. Power sharing is part of the agreement and we want to implement it. It should work if there is political will.
What are the necessary conditions to achieve peace in South Sudan?
Fighting is going on. The first thing to do is to initiate a political process and foster a political engagement between warring parties. There are issues that have to be addressed in the peace agreement. Security and power-sharing arrangements need to be reviewed because lots of things have happened since July. The dynamics of the war have changed and the conflict has now spread to other areas.
Are you planning to go back to South Sudan?
Yes, it is home. South Sudan is not Juba, we have liberated some areas and I would stay in those liberated areas. I am currently in South Africa where I received medical treatment and I am ready to go back.
When you left South Sudan in July, you went to Sudan. How would you describe your relationship with the country?
It is normal, the same type of relationship I have with any other neighbouring country. Nothing is special. Sudan has been part of the mediation process and that's it. In 2012, we signed an agreement. At one time, we were one country and Sudan is hosting the biggest number of refugees from South Sudan.
South Sudanese people have been suffering greatly since the war erupted in 2013. What is your message to the people of your country?
We want peace. The war has been brutal on our people. We have more than one million refugees in neighbouring countries. We have more than 150,000 people under the protection of the UN forces within South Sudan and 2.5 million people are internally displaced. We have over 7 million people in dire need of humanitarian assistance. The war must come to an end, we have been calling for a political process where warring parties can engage and review the agreement.
Government of South Sudan response
Sabit A Alley, South Sudanese ambassador to the UK, told IBTimes UK that Machar's claims were baseless.
"The government remains committed to the full implementation of the Peace Agreement. How can Machar claim that he is committed to the peace deal when he has again declared fresh war on the government?" he said.
Alley previously told IBTimes UK the peace agreement was about the fate of the country, not about Machar and his replacement was "in accordance with Article 6.4 of the Agreement on the Resolution of the Conflict in the Republic of South Sudan."
Alley added Gai had been working hard to ensure the implementation of the peace deal and promote economic boost.