World 'must commit to ending South Sudan war' as violence continues and hunger looms
4.6million people face hunger in war-torn South Sudan where civil war has killed thousands.
The humanitarian crisis in South Sudan is worsening due to the deterioration of a conflict that erupted in 2013. Latest estimates suggest at least 4.6 million people across the country are facing hunger, while hundreds of thousands keep crossing into neighbouring nations fleeing violence.
South Sudan became the world's newest nation when it declared independence from Sudan in 2011.
However, the country descended into civil war in 2013 when President Salva Kiir, of the Dinka ethnic group, fired his deputy Riek Machar – from the Nuer group – and his cabinet.
Ethnic-related violence spread, with militia groups carrying out attacks in villages and areas known to be inhabited by either the Dinka or Nuer tribes.
An estimated 50,000 people have been killed, amid allegations of crimes against humanity committed by both sides, including rape, torture and the use of child soldiers.
Earlier this month, the World Food Programme (WFP) warned the country was witnessing an "unprecedented" level of malnutrition, which was already above the 15% "emergency" level in seven out of South Sudan's 10 states. In Unity and Northern Bahr el Ghazal states, the malnutrition level was of about 30%.
People are fleeing violence leaving their crops to rot in the fields. In addition, the heavy rainy season has made some roads inaccessible hindering food deliverance.
Many fear hunger will deepen as the conflict has now spilled into the Equatoria region, considered one of South Sudan's breadbaskets.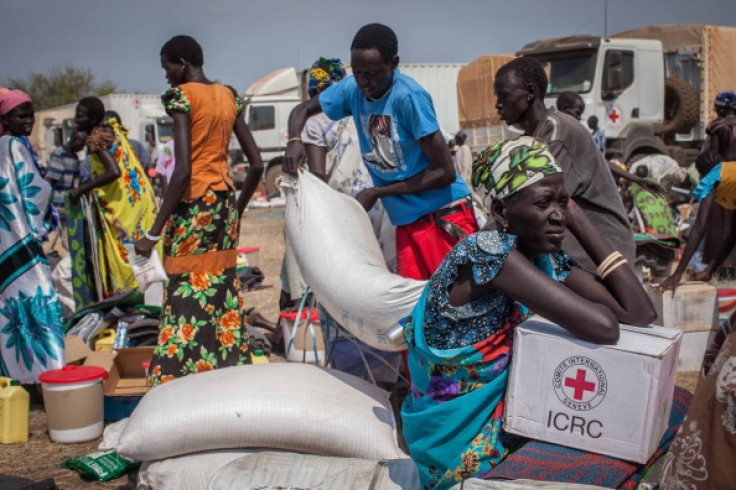 'There is hope in South Sudan'
"Food insecurity is not only getting larger in numbers year on year, but it is getting deeper and it is spreading to areas that were previously considered stable," Jeremiah Young, policy, advocacy and peace-building advisor at World Vision South Sudan, told IBTimes UK.
South Sudan crisis
Kiir and Machar have agreed on several peace deals, but have failed to control their troops, who have broken every ceasefire signed since 2014.
Machar, who leads the opposing faction Sudan People's Liberation Movement-in-Opposition (SPLM-IO), originally left South Sudan in 2013. His return, and his reinstatement as vice president in April had restored hopes for the implementation of the peace process.
However, Machar fled again following deadly fighting in July and was replaced by Taban Deng Gai.
A recent UN probe concluded its mission in South Sudan (Unmiss) failed to protect civilians in July due to "a lack of leadership on the part of key senior mission personnel".
The probe resulted in the sacking of Unmiss chief. The dismissal angered Kenya, which decided to withdraw its troops from the UN peacekeeping mission.
"The western Equatoria region has vast potential to not only provide food for the country itself, but also to be a food exporter to the region," he continued.
"The longer the insecurity remains, the less we are going to be able to develop those potential opportunities for the country to not have to always be suffering from food insecurity, relying on aids and developing as a new nation."
Young explained the South Sudanese section of the global charity is assisting civilians with holistic programmes ranging from food distribution to community capacity building.
"We do cover the whole sphere of the various types of intervention that match the vulnerability that are being experienced in South Sudan," he said.
Young added international donours and humanitarian organisations were at a crucial point in terms of the response to the crisis and called on stakeholders to "really commit themselves to South Sudan."
"There is hope and South Sudanese people express this hope," he concluded.
© Copyright IBTimes 2023. All rights reserved.