Genocide fears are spreading in South Sudan, where attacks on civilians from Dinka and Nuer ethnic groups are on the rise. UN secretary general Ban Ki-moon warned that a rise in hate speech and ethnic incitement in the last weeks is likely to spark "mass atrocities" in the country, already ravaged by a civil war which erupted in 2013.
"It must be clearly understood that United Nations peacekeeping operations do not have the appropriate manpower or capabilities to stop mass atrocities," Ban said.
"The limits on Unmiss's [UN mission in South Sudan] ability to protect civilians in the current environment have been demonstrated clearly."
Ban made the comments after his Special Adviser on Preventing Genocide, Adama Dieng, warned there was "the potential for genocide" in South Sudan, and called for "immediate intervention and humanitarian support".
In October, South Sudan's former deputy defence minister, Majak D'Agoot, told IBTimes UK the country was in a state of anarchy.
"Policies that are being implemented are pushing people apart and destroying the social fabric. There is intense hate speech, ethnic mobilisation and this is leading to fragmentation. South Sudan has been placed by these two leaders [Kiir and Machar] in the staircase to former Yugoslavia," D'Agoot, a former political prisoner, said.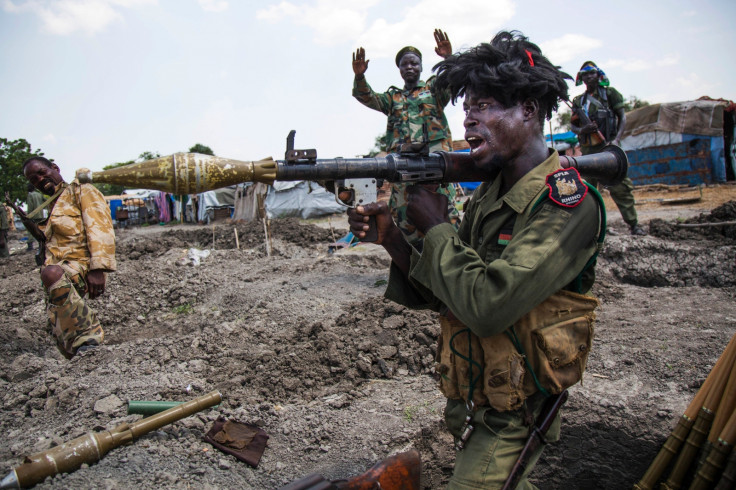 Unmiss 'failed to protect civilians'
Earlier this year, the nearly 14,000-troop-strong Unmiss was accused of not doing enough to protect civilians, when some 300 people were killed in the capital Juba in July.
Deadly clashes erupted between government troops and forces loyal to rebel leader and former vice-president Riek Machar. The clashes sparked a three-day long spate of violence which resulted, among other things, in the rape and killings of civilians and aid workers and failure to implement a peace deal signed in August 2015.
Following the allegations of inaction, a UN probe concluded Unmiss had failed to protect civilians during deadly violence due to "a lack of leadership on the part of key senior mission personnel".
The probe resulted in the sacking of Unmiss chief, Kenyan Lieutenant General Johnson Mogoa Kimani Ondieki. The dismissal angered Kenya, which decided to withdraw its troops from the UN peacekeeping mission.
Following July's violence, the conflict has spilled into the Equatoria region, where several rebels are sheltering.
South Sudan war
South Sudan became the world's newest nation when it declared independence from Sudan in 2011. However, the country descended into civil war in 2013 when Kiir, of the Dinka ethnic group, fired his deputy Machar – from the Nuer group – and his cabinet.
Ethnic-related violence spread, with militia groups carrying out attacks in villages and areas known to be inhabited by either the Dinka or Nuer tribes.
An estimated 50,000 people have been killed, and hundreds of thousands are either facing starvation in the country or have fled, amid allegations of crimes against humanity committed by both sides, including rape, torture and the use of child soldiers.
Kiir and Machar have agreed on several peace deals, but have failed to control their troops, who have broken every ceasefire signed since 2014.
Machar, who leads the opposing faction Sudan People's Liberation Movement-in-Opposition (SPLM-IO), originally left South Sudan in 2013.
His return, and his reinstatement, as vice president in April had restored hopes for the implementation of the peace process. However, Machar fled again, following deadly fighting in July.
The rebel leader accused government forces of opening fire on his troops, and said he would return to the capital once a third-party force was deployed to ensure his and his officials' safety. He was replaced by Taban Deng Gai, a former ally of his.