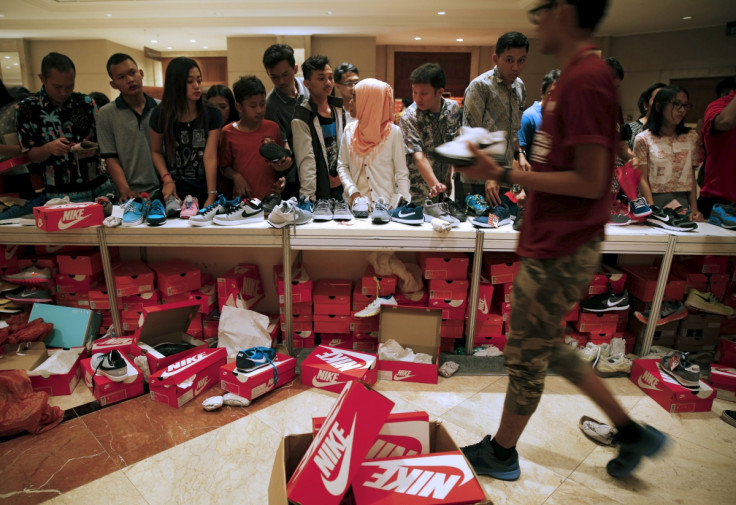 Nike, the world's largest sportswear maker, has posted good results for the quarter ended 31 August with a profit of $1.18bn, up 23% from last year and total revenues of $8.41bn up 5.4%. Despite a slowdown in China, the country's contribution to Nike's overall performance was huge as in China alone, it posted sales of $886m, up 30% and profits rose 51% to $330m. Nike described the China results as "amazing".
"While we are very mindful of the macroeconomic volatility in China, our brand has never been stronger and our marketplace has never been healthier," said chief financial officer Andy Campion. The Chinese economy is heading for its slowest growth in 25 years. While this is causing concern for all companies from luxury car maker BMW to Dutch electronics group Philips, Nike seems to have bucked this trend.
Nike's China boost was due to various factors including overhauling its stores, faster online sales and a busy quarter for sporting events in the country. It has also leveraged social media and its mobile apps to gain traction among younger customers. While its new footwear launches in the basketball, running and sports categories drew customers towards its high-priced products and its direct-to-consumer channel, its sales of athletic apparel were driven by the "athleisure" trend.
NBA stars
Nike also got current NBA stars Lebron James, Kobe Bryant, Anthony Davis and Paul George appear at promotional Nike events in China because of the importance of basketball to the Chinese. The company announced recently that Michael Jordan would be travelling to Shanghai next month to commemorate the 30th anniversary of his franchise.
Brian Yarbrough, analyst at Edward Jones stated that Nike was able to get ahead of its rivals due to Investments in product innovation and gathering feedback and data on customers' fitness activities, calling the first quarter results "extremely impressive".
Nike's shares which were already up 19% for the year rose 7.5% in extended trading after the results were announced. This marked the company's ninth straight quarter of better-than-expected profits. Nike's revenue growth has been predicted to grow at 17% by Robert Drbul, analyst at Nomura. He states: "The region has now entered a 'new normal' of exceptional brand strength and productivity."
According to a September report by HSBC, the Chinese sportswear market is expected to grow further due to wearable tech and advent of sports-focused apps. "More participation in sports and increased spending per person should amount to promising growth prospects," it said.