Archeologists and Assyrian experts have reacted with disgust at the latest Islamic State (Isis) video showing militants flattening the ancient Assyrian city of Nimrud in northern Iraq, and warned that other sites could face the same fate soon.
The footage suggested that the 13th century BC site, founded by the Assyrian King Shalamansar I and located on the Tigris River south of Isis-held Mosul, was completely levelled to the ground by IS militants. Earlier in March, the Iraqi ministry of tourism and antiquities reported of destruction and bulldozing at Nimrud, saying that "the terrorist gangs of IS are continuing to defy the will of the world and the feelings of humanity".
The director general of UN cultural agency Unesco Irina Bokova condemned the latest IS attack on Iraq's cultural agency as a "mad, destructive act that accentuates the horror of the situation".
"It confirms that the terrorists are not only destroying representations of figures and bas-reliefs," she said in a statement. "With their hammers and explosives they are also obliterating the site itself, clearly determined to wipe out all traces of the history of Iraq's people."
Bokova also recalled that the destruction of heritage is a "war crime". "We will do everything possible to fight against this and document it, to ensure that those responsible are identified and brought to justice," she said.
The total destruction of Nimrud is the latest in a series of attacks on ancient artefacts and antiquities in Iraq and Syria in the name of an iconoclastic and strict interpretation of Islamic Law that draws inspiration from early Islamic history.
Nineveh Yakou, Assyrian archaeologist and director of cultural heritage and indigenous affairs at campaigning group A Demand for Action, told IBTimes UK that the attack likely took place on 2 April, citing sources on the ground, and it was still intact after the first March attack.
"This site is 3,000 years old and had resisted the test of time," she said. "It was subject to wars, conflict, looting, natural causes, destruction with the Iraqi wars - it had to take explosives to completely wipe it out."
"When you see something like that as an archeologist and as an Assyrian is beyond anything imaginable. They're destroying civilisation from it's ancient epicentre," Yakou said.
Among the treasures that have been either destroyed or looted at Nimrud are the Lamassu, colossal statues depicting winged lions or bulls with bearded human heads, and its bas-reliefs and steles that show scenes of war and hunting.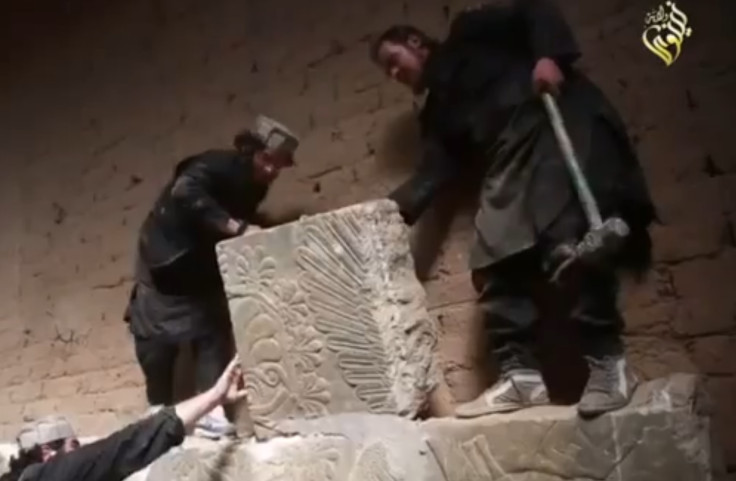 The IS video shows militants destroying artefacts and walls with modern machinery, toppling gypsum slabs carved with Assyrian deities and finally placing barrels of explosives all around the site and blowing it up.
A lot of artefacts, such as the intricate reliefs and the treasures from the royal tombs, had been moved to Western museums like the Metropolitan museum in New York and to Baghdad. But the unmovable artefacts had been destroyed forever, the archaeologist said.
"One of the saddest things that breaks my heart is to see in the video reliefs with the original pigment to the paint - which is very rare to find - and now it's completely gone," Yakou said.
Nimurd had been subject to neglect and looting for some time. Since the US-led invasion in 2003, many artefacts were looted and shot at or damaged.
Yakou warned that now Hatra and Khorsabad, two other ancient capitals, are in danger of being flattened by IS fanatics, as well as the walls of Nineveh.
"They're wiping out the multi-ethnicity of the land. It's always been multiethnic, multi-religious, multi-language and multicultural and that diversity is being wiped out," Yakou said.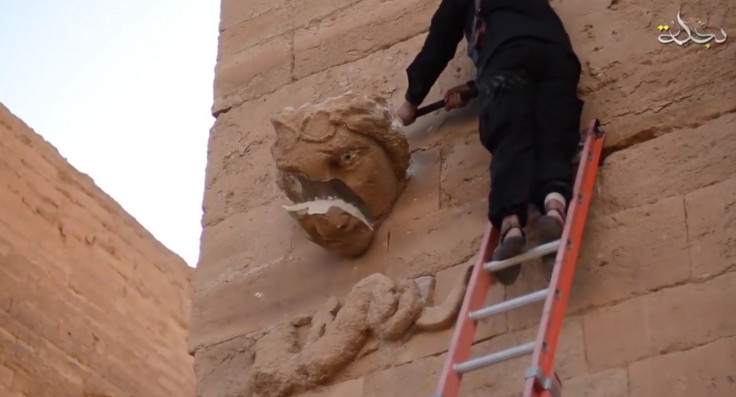 Last week, an IS video depicted jihadists taking sledgehammers to Hatra, which is Unesco World Heritage site.
Hatra was founded in the days of the Seleucid Empire (300-200 BC), and flourished under the later Parthian Empire. Its unique mix of Hellenistic and Roman architecture with Eastern decorative features attested "to the greatness of civilization", according to Unesco.
The video, posted on a website frequently used by IS, has a small silver lining for it shows the site suffering lesser damage than what it was initially reported.
Iraq's ministry of tourism reported in March that the ancient city of Khorsabad, 19km northeast of Mosul, had been destroyed and looted by "those gangs and their sick Takfiri ideology".
Founded by Assyrian King Sargon II between 717 and 706 B.C. the site has well-preserved paint on its reliefs.
"They have no right to do what they're doing," Yakous said.