Iraqi government's reports that the ancient archaeological sites of Nimrud and Hatra were completely destroyed and leveled to the ground by the Islamic State (Isis) have been disputed by an international association of archaeologists citing satellite imagery and local professional sources.
Claims that Nimrud, an Assyrian 13th century BC site, and Hatra, a world heritage site blending Hellenistic and Roman architecture with Eastern decorative elements, were "bulldozed" by IS were first reported by the Iraqi ministry of tourism and antiquities.
The destruction would be the latest in a series of attacks on ancient artefacts and antiquities in Iraq and Syria in the name of an iconoclastic and strict interpretation of Islamic Law by IS. The jihadist group draws inspiration from early Islamic history, rejects religious shrines and condemns Iraq's majority Shi'ite Muslims as heretics.
Irina Bokova, head of the UN cultural agency Unesco, called the alleged demolition of Hatra "a turning point in the appalling strategy of cultural cleansing under way in Iraq".
But Marc Lebeau, Belgian archaeologist and founder of non-profit Shirin (Syrian Heritage in Danger: an International research initiative and network), told IBTimes UK that these "single-sourced statements" are not supported by any sources on the ground.
"I had some doubts at the beginning. I tried to cross check this information with Asor, with their sources and partners. We also have our own sources in Mosul and Nineveh province. They are all professionals and able to access any damage. They didn't say anything. If something had happened they would've told us immediately. We don't have any confirmation from these sources," he said.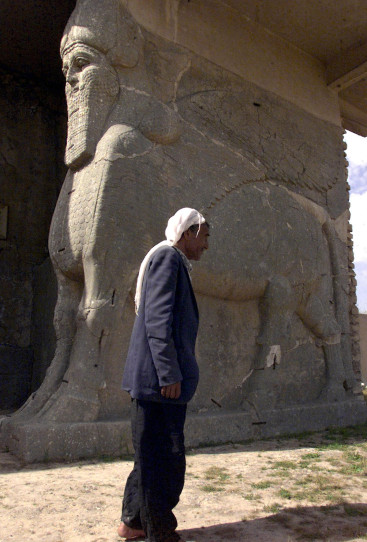 "I told my doubts to the World Heritage Group and a day after I had some confirmation from them following their own sources, most probably UNOSat imagery, that my doubts were confirmed."
The most recent satellite imagery from UNOSat via the Unesco World Heritage Centre "do not reveal any massive human/mechanical presence, nor visible destruction" in the Nineveh province areas in question, according to Lebeau, who added that nonetheless we need to be cautious about IS.
"While not minimising the destructive actions of the mentioned jihadist group and reminding the fate of the lamassû of Nergal's gate at Nineveh, the Jonas' Tomb in Mosul and other buildings of cultural value and religious importance, what already constitutes a major cultural crime, we insist on the necessary cross-checking of the information," a statement on Shirin website reads.
Unesco confirmed to IBTimes UK that satellite images show that the sites of Nimrud and Hatra "have not been completely razed to the ground" but added that it is difficult to tell what really happened.
"The images' resolution is really low so it's difficult to get a conclusive result. It's not clear whether damages have taken place to the site. We're in the process of analysing the images and comparing them to the previous ones taken at the site," said Giovanni Boccardi of Unesco's World Heritage Centre.
He said that many sculptures and decorations "could have been destroyed" by the Islamic State. "It's difficult to assess the situation from the satellite pictures. Even if they only destroyed a part of the site or knocked off a decoration, it would still be a total catastrophe."