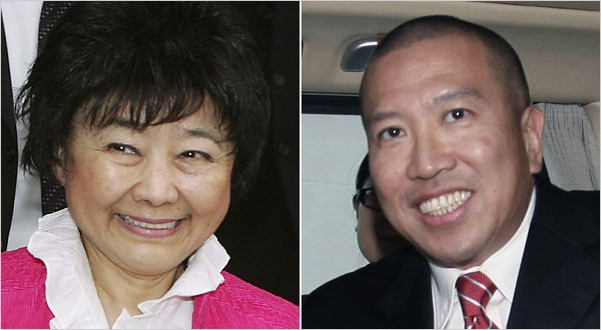 The former lover of Nina Wang, the Hong Kong property tycoon who was once Asia's richest woman, has been sentenced to 12 years in prison after being found guilty of forging her will.
Peter Chan's attempt to pass himself off as the sole beneficiary of Wang's estimated $10.7bn (£7.13bn) estate was "shameless, wicked and born of unparalleled greed," said Hong Kong high court judge Justice Andrew Macrae.
Wang died of cancer in 2007 at the age of 69. She had achieved fame and immense wealth with her property company Chinachem, which she inherited from her husband Teddy Wang when he was kidnapped in 1990. He was never found, despite his family paying a $33m ransom.
Charges were brought against Chan in 2011, after a court ruled that a will which left Chinachem Group to him was a forgery.
The trial became a sensation in the territory, and led to a stream of salacious revelations about their unlikely affair. Wang was two decades older than Chan and was known as "Little Sweetie" for her trademark pigtails and cute outfits.
The pair met in 1992 when Wang sought out a feng shui master to find her missing husband. Chan, 53, who changed his name from Tony after converting to Christianity was a former feng shui master.
He was a married father-of-three, who had worked as a waiter, bartender, machinery salesman and market researcher.
Clever and beguiling charlatan
The court was shown videos of the pair kissing and caressing by Chan's lawyers in an attempt to prove that their relationship was genuine.
But the judge said that Chan, not content with the $387m Wang had given him while she was alive, had decided to claim her entire estate.
He was convicted of forgery and using a false instrument and sentenced to 12 years on each count, to be served concurrently.
"I have no doubt you are nothing more than a clever and beguiling charlatan," Macrae said.
He said Chan's forgery would have cheated the charitable foundation that Wang and her late husband founded and cost it millions in legal fees.
"Instead of benefiting mankind as Nina Wang wanted, the only one to benefit would have been you," the judge said.
In an earlier ruling, a judge upheld a separate will that bestowed the fortune on Wang's Chinachem Charitable Foundation.