Nine dead including three children near Bali after bridge collapses
'Too many people were crossing the foot bridge during a religious ceremony,' a police officer said.
Three children are among the nine dead near Bali after a bridge connecting two Indonesian islands collapsed on Sunday (16 October). The Yellow Bridge in Klungkung collapsed at 6pm local time (11am UK time) plunging dozens of people into the water.
Although the water below the bridge, which links the Indonesian islands of Nusa Lembongan and Nusa Ceningan, is only two-metres deep, many of the victims were injured and crushed by the falling debris of the bridge.
A spokesman for the National Disaster Mitigation Agency, Sutopo Purwo Nugroho, confirmed three children between the ages of three and nine were among those who died, reported AP.
Over 30 were injured, two of which are suffering serious injuries.
Nugroho said: "Before the bridge collapsed it was already shaking.
"Some motorcyclists and people fell into the sea, and people in the area immediately tried to save them."
Indonesia's search and rescue agency stopped the search for the day at 9pm local time (2pm UK time), but will resume at daybreak on Monday, its spokesman said.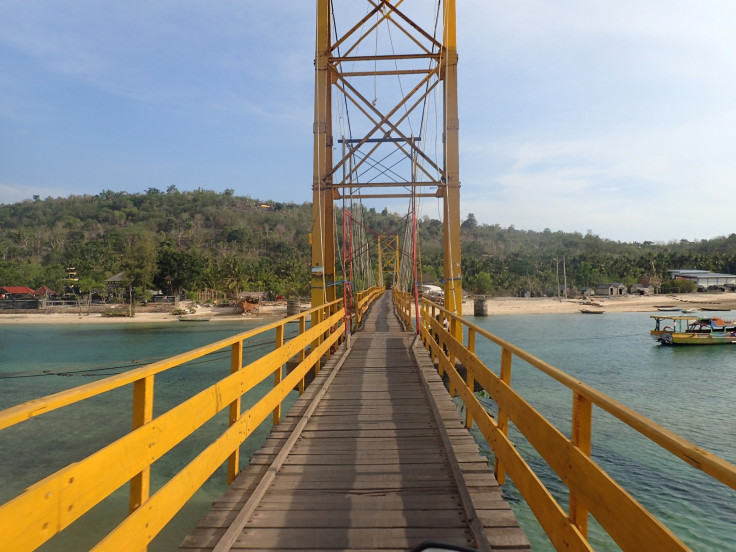 So far, eight of the nine dead have been identified. It is not clear how many more could yet be trapped below.
Bali is a popular tourist destination, especially among Brits, for its beaches, temples and religious shrines.
Arendra Wahyudi, a local police officer, confirmed no foreigners were injured in the collapse.
He said there were too many people passing over the bridge for a religious ceremony when it gave way, reported Reuters.
The bridge, which is around 100 metres long and 1.5 metres wide, is used only by pedestrians and motorcyclists.
One TripAdvisor review, posted days before the collapse of the bridge, shows how dangerous the bridge was before its collapse. The reviewer said: "We hired mopeds for the day and went exploring the islands.
"We went over the bridge on the mopeds and have to say it was a little nerve wracking.
"The boards creaked like they were about to give way at any moment and [it was] very squishy if you come across others crossing in opposite direction.
Several images of the aftermath of the bridge surfaced on Twitter following the collapse.
© Copyright IBTimes 2023. All rights reserved.