Nintendo Switch full specs revealed: Battery life, menu screen, storage and more
Nintendo reveals the full technical specs for its home and handheld console.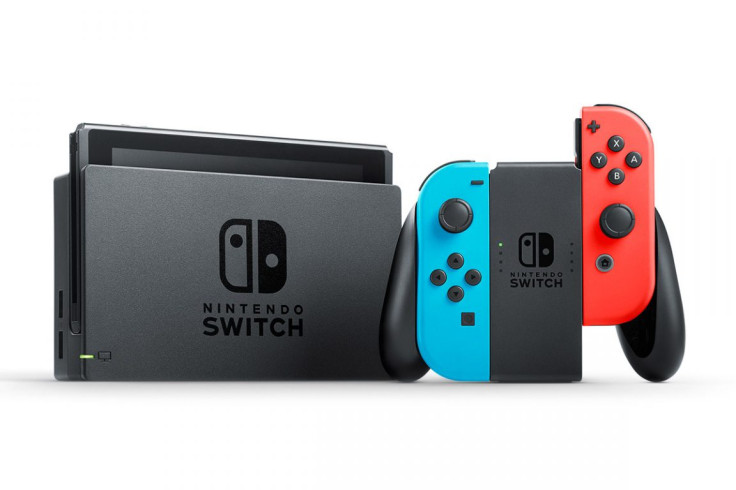 Nintendo has revealed the complete technical specifications for its upcoming home and handheld hybrid console Nintendo Switch on a website that also outlines every possible way to play the brand new gaming device.
Revealed on its official website, Nintendo has outlined full details regarding how the console works, confirming much of what we already knew. The page also runs down the ways Switch can be used and its various features, including a first official look at Switch's home screen and (UI) user interface.
Switch can be played on a television set, as a tablet-like handheld device and in a third "tabletop mode" utilising the two Joy-Con controllers attached to the sides of the Switch in handheld mode, which also function as individual controllers.
The page also includes annotated pictures of the device, its dock, the JoyCon controllers, the straps that slot onto each Joy-Con and the grip into which they can slot to create a more traditional controller for use in Switch's TV Mode.
Included among these images is the first look at the back of the Switch dock, which includes a stand that folds up to cover the back ports and make it easier to transport.
The UI has been spotted before, but this first official look explains the simple interface, which has three main menu options below the games available to play, your friends online, the time and standard icons for battery life, and wi-fi connection.
These three options are for Nintendo News, Nintendo's eShop and and Album for screenshots taken with the new capture button (plus videos when the ability to capture videos is introduced later this year
Nintendo Switch will be released worldwide on 3 March with launch games including The Legend of Zelda: Breath of the Wild and 1-2 Switch.
Here are the complete specs...
Size - 102mm x 239mm x 13.9mm (with Joy-Con attached)
(Please note: 28.4mm at the thickest, from the tips of the analogue sticks to the ZL/ZR Button protrusions)
Weight Approx - 297g
(With Joy-Con controllers attached: 398g)
Screen - Capacitive touch screen / 6.2 inch LCD / 1280x720 resolution
CPU/GPU - NVIDIA customised Tegra processor
System memory - 32 GB
(Please note: a portion of this internal memory is reserved for use by the system)
Communication features - Wireless LAN (IEEE 802.11 a/b/g/n/ac compliant) / Bluetooth 4.1
(TV mode only. A wired LAN connection is possible through the use of a commercially available wired LAN adapter)
Video output - Maximum resolution: 1920x1080, 60 fps
(Please note: output via HDMI cable in TV mode. In tabletop mode and handheld mode, the maximum resolution is 1280x720, which matches the screen resolution)
Audio output - Supports linear PCM 5.1ch
(Please note: output via HDMI cable in TV mode)
Speakers - Stereo
USB terminal - USB Type-C terminal
(Used for charging or for connecting to the Nintendo Switch dock.)
Headphone mic. Jack - Stereo output
Game card slot - Exclusively for Nintendo Switch game cards.
microSD card slot - Compatible with microSD, microSDHC and microSDXC memory cards.
(Please note: an update via an internet connection is required to use microSDXC memory cards)
Sensors - Accelerometer / gyroscope / brightness sensor
Operating environment - Temperature: 5 - 35°C / Humidity: 20 - 80%
Internal battery - Lithium ion battery / battery capacity 4310mAh
(Please note: the internal battery cannot be removed. If the battery needs to be replaced, we plan to offer paid replacement via Nintendo Customer Support.)
Battery life - Battery life can last for more than six hours, but will vary depending on the software and usage conditions.
(For example, The Legend of Zelda: Breath of the Wild can be played for roughly three hours on a single charge)
Charging time - 3 hours approx.
(Please note: this is the time taken to charge while the console is in sleep mode)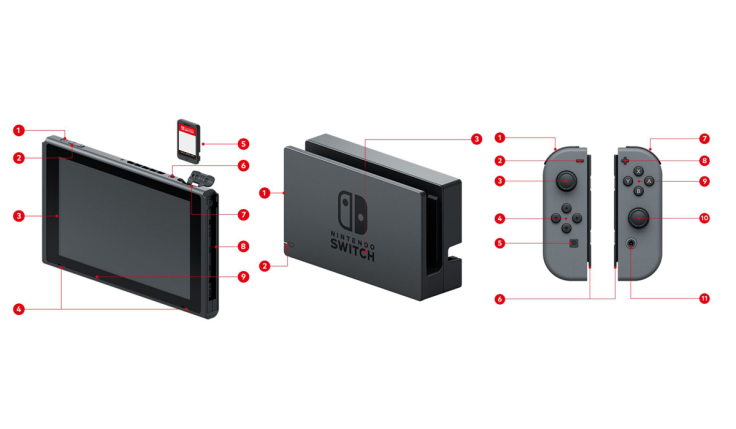 For all the latest video game news follow us on Twitter @IBTGamesUK
© Copyright IBTimes 2023. All rights reserved.