Kojima Productions, the independent studio launched by Metal Gear Solid creator Hideo Kojima following his well-publicised departure from Konami, has shared a look inside its lavish new studio in Tokyo.
Kojima departed from Konami at the end of 2015 following the release of Metal Gear Solid 5. Not long afterwards, a partnership with Sony was revealed that is to see Kojima Productions develop a new game based on a new IP for release on PS4 and PC.
At E3 2016 last June, Kojima took to the stage at Sony's press conference to announce, with a mystifying but memorable trailer, that game would be called Death Stranding.
Initially, Kojima and his team worked from a "temporary space", presumably while this office was being built. You can see why it took some time to make. The new pictures published on the studio's website show a crisp, clean and futuristic working environment.
There are awards shelves, a large motion capture studio, hallways adorned with posters for Death Stranding and a more conventional office space with a large, lengthy kitchen and dining area.
Kojima offered a tour to the BBC, whose reporter described the bright white hallway entrance to the studio as "like stepping into a sci-fi film". The BBC's report describe at as a "mind-cleansing" entrance "designed to help people forget about the outside world before starting their day".
The report also includes a look inside Kojima's office, which includes large graphic design books and a display case, on top of which can bee seen large models of Godzilla, a TIE Fighter from Star Wars, Wall-E and, tucked away, a Thunderbird 2.
Death Stranding has been described as an open world action game with a particular focus on co-operative play. It stars Norman Reedus, who appeared in PT and was set to star in Kojima's cancelled Silent Hills project, Mads Mikkelsen, and director Guillermo del Toro, who was set to make Silent Hills with Kojima.
E3's trailer was followed up at The Game Awards in December with another trailer introducing the characters of Mikkelsen and del Toro, but not making exactly what the game is any clearer. Kojima said last year that the game would be released by 2018 – although his games are known to be delayed.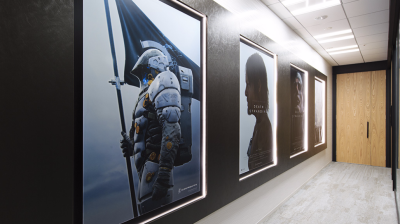 For all the latest video game news follow us on Twitter @IBTGamesUK