Nintendo's expansion into mobile gaming has taken another step forward with the full reveal of Fire Emblem Heroes, a free-to-play game for iOS and Android that reimagines the strategy RPG series for gaming on a smartphone or tablet. Heroes is set for a worldwide release on 2 February.
Announced at a Nintendo Direct dedicated entirely to the venerable franchise, Heroes adapts the movement grids and turn-based combat of previous Fire Emblem games to fit touchscreen play, with drag-and-drop controls used to move character units across smaller 6 x 8, vertical maps.
The game is set to feature a broad range of classic characters from its almost 27-year history in its main story mode, with notable favourites unlockable via in-game currency or in-app purchases. In a press release, Nintendo also revealed that it will be possible to compete against other players and promised to support the game with "free and timely updates," which will "add new characters and content for additional hours of gameplay."
"As a summoner, players build their army by calling upon Fire Emblem heroes from worlds that span the breadth of the series," said Nintendo. "Players will wage strategic tactical battles streamlined for on-the-go play and level up a mix of new combatants and legendary heroes. Some familiar hero characters will become allies, while others will become enemy generals and take arms against you."
Nintendo also announced a "choose your legend" vote to decide which hero and heroine will receive special outfits to celebrate the game's release. Voting is currently open on the official Fire Emblem site, with My Nintendo account members receiving 200 Platinum Points for making a selection.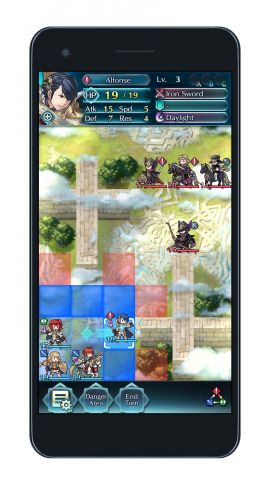 Three other Fire Emblem games were also featured during the presentation on 18 January (embedded below), including a remake of 1992's Japan-only Fire Emblem Gaiden - titled Fire Emblem Echoes: Shadows of Valentia - launching on Nintendo 3DS on 19 May, and the announcement of an all-new Fire Emblem game for Nintendo Switch due in 2018.
There was also a longer showcase for Fire Emblem Warriors - the second attempt at fusing the hack-and-slash fury of Omega Force's Dynasty Warriors series with Nintendo IP following the positive reception for Wii U and 3DS Legend of Zelda spin-off, Hyrule Warriors. Fire Emblem Warriors launches on Nintendo Switch, alongside a handheld version exclusive to New 3DS owners, in autumn.
Fire Emblem Heroes is the third app to come from the Kyoto publisher's partnership with DeNA after the weird social networking experiment Miitomo and Super Mario Run. With Mario's smartphone debut arriving on Android in March following an initial iOS release in December 2016, the only other game confirmed to be in co-development between the two companies is an Animal Crossing title.
The Animal Crossing mobile game is expected to launch later in 2017, with two further games also reportedly in the works from the ongoing Nintendo-DeNA collaboration.