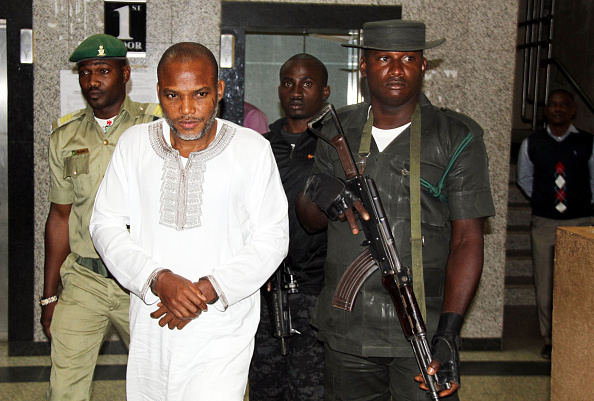 A pro-Biafran leader accused of treason has demanded that a court in Nigeria drop the charges against him. Nnamdi Kanu, Radio Biafra director as well as head of the Indigenous People of Biafra (Ipob), is standing trial on six counts of treasonable felony charges.
Pro-Biafrans are calling for the independence of the Biafran territories forcibly annexed to Nigeria during the British colonisation, which ended in 1960. They hold regular marches across the country's south-east demanding independence. A Biafran Republic was established in 1967 and reannexed to Nigeria in 1970, following a civil war that claimed between one and three million lives.
Kanu appeared at the High Federal Court in Abuja on 7 March for a hearing presided over by Hon Justice John Tsoho. One of Kanu's representatives, Chuks Muoma (SAN), said the prosecution was not ready to corroborate the charges against Kanu and two other defendants, Benjamin Madubugwu and David Nwawuisi, local media reported.
"The prosecution is not prepared to produce its witnesses. I most humbly apply the charge against the defendants be dismissed," Muoma argued. "My lord should make an order that they should not be rearrested. I seek a specific order that they should not be rearrested."
However, Mohammed Diri, counsel to the State Security Service (DSS), said witnesses were ready to testify against the defendants, but demanded their identity be disguised.
The judge ruled against Kanu's request to drop the charges and allowed witnesses to testify behind protective screens.
Meanwhile, Ifeayin Ejiofor – another lawyer representing Kanu – alleged he was subjected to threats from the DSS before going to court. "My lord I will like you to take note of this threat to my life, because I don't know what will happen tomorrow," Ejiofor said.
Tsoho asked both parties to decide whether they wanted the trial to continue. Ejiofor has not responded to a request for a comment on the alleged death threats.
The trial has been adjourned to 9 March.
Kanu's detention 'unlawful'
Kanu was arrested by the DSS in Lagos in October 2015 on conspiracy and terrorism charges, which were later dropped.
A day after the Abuja High Court ruled he should be released, officials pressed new treasonable felony charges against him, while Buhari said Kanu would not be granted bail due to the "atrocities" allegedly committed.
Kanu had been kept in DSS custody until Tsoho ruled he should be transferred to the the Nigeria Prison Service in Kuje, about 40km south-west of Abuja, so family members could visit.
Meanwhile, Amnesty International told IBTimes UK that Kanu's earlier detention had been unlawful. Lucy Freeman, senior research adviser at Amnesty, said: "We have seen in several cases the practice of the DSS of arresting someone, holding them unlawfully, and when that person challenges their detention with bail, they are immediately charged with something else to prolong their detention. That's unlawful detention," Freeman said.
"There are a number of people who have been detained in connection to Boko Haram who had a similar thing happened. The question is: To what extent is the rule of law respected? By looking at the examples of Kanu and other cases it seems that it is not being respected."
---
Nigeria up close: Check out our Flipboard magazine
---