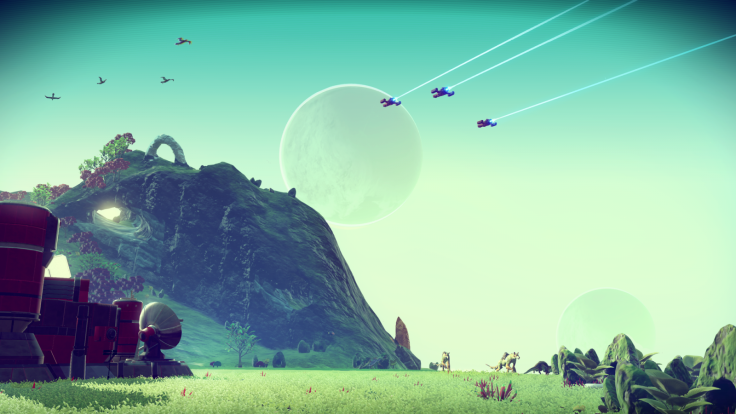 UK-based indie studio Hello Games has released the largest set of fixes and tweaks so far for its near-infinite space exploration game No Man's Sky. The latest update 1.07 addresses multiple technical issues and squashes several bugs including one that leaves players stuck in the world and another one that corrupts game saves. The patch also includes a bunch of gameplay tweaks as well as a few PC-specific updates.
The new patch also fixes a bug that "could cause some corrupt save games to not be loaded," which could be related to the previously reported issue where players said their discoveries made and logged in the journal were systematically being erased.
Reddit user Dark_Nexis, who first reported the issue, later said his discoveries seemed to reappear after re-downloading and reloading the game several times. The user chalked the issue up to a possible server glitch.
"I don't know what happened but all the discoveries re-appeared on my starting planet," Dark_Nexis wrote at the time."It seems like a server bugs, like it takes a while for your old discoveries to re-download... It seems a little bugged where you get further and further away from your starting point [and] you can't see your old discoveries even when you find your way back. It's like the server lags behind big time and takes a while to find the old information."
The team also addressed No Man's Sky fans' growing concerns over the team's lack of communication since the game's bumpy launch, particularly on PC. Reassuring fans that they are still listening to feedback from No Man's Sky fans, the team said that although the team is currently focused on customer support, they will continue "improve, expand and build" the sci-fi sim's ambitiously massive universe.
"Over the last few weeks since No Man's Sky released we've been inundated with feedback and discussion about No Man's Sky," the Hello Games team wrote in a blog post. "No matter what feedback you gave us, you have been heard and we are listening carefully. Thank you.
"What matters now, as always, is what we do rather than what we say. We're developers, and our focus is first on resolving any issues people have with the game as it is, then on future free updates which will improve, expand and build on the No Man's Sky universe."
Despite soaring to the top of UK's game charts within its first week of release; many irked fans have demanded refunds, citing missing features, the game's technical problems and alleged misleading advertising.
Over the few weeks since the game's release, the team has brought on a community and support management team to categorise support issues and address them in order of priority, the team said. The patch notes for the four patches each for PC and PS4 have also been released.
Hello Games founder Sean Murray previously mentioned that the team will shift its focus on adding new features and content to the game after addressing all the customer requests received thus far.
"This is a labour of love for us, and it's just the beginning," the team said.
Here is the complete list of changes included in patch 1.07: