An investigation into the plane crash, which killed a Brazilian Supreme Court justice, has revealed there were no mechanical failures that could have been responsible for the incident. The Hawker Beechcraft twin-prop aircraft crashed into a bay off Rio de Janeiro State amid heavy rain on 19 January, killing Judge Teori Zavascki and four others.
According to preliminary analysis, which is based on the final 30 minutes of audio captured by the plane's cockpit voice recorder, communications by the pilot suggested there was no sense of panic on board. The Brazilian Air Force, which is in charge of the investigation, said a more thorough check will be required before any final conclusions can be reached.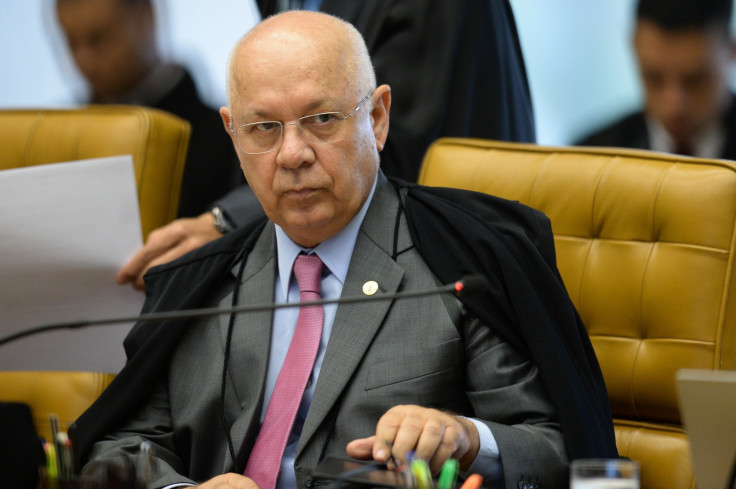 Speculation surrounding the cause of the incident suggest that the plane may have been sabotaged in order to get rid of Zavascki. The judge was overseeing Operation Lava Jato (Car Wash), an investigation into Brazil's biggest corruption scandal involving bribery and links between senior politicians and Brazil's major corporations including oil company Petrobras and construction company Odebrecht.
Prior to his death, the 68-year-old was expected to approve testimonies gathered from 77 executives of Odebrecht. More than 200 powerful politicians and businessmen were at risk of being implicated in the scandal. Former president Luiz Inacio Lula da Silva is facing five trials in connection with the case that involves $2bn (£1.6bn) in bribes. Eighty one individuals have already been convicted.
President Michel Temer is expected to nominate a replacement for Zavascki but said he will only do so once the court decides how it will proceed with the Car Wash investigation. On 24 January, Chief Justice Carmen Lucia instructed the assistant judges who worked alongside Zavascki to resume formal proceedings to examine plea bargain statements.