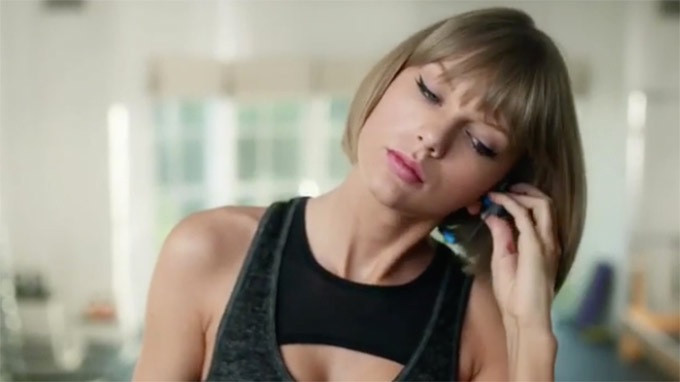 Less than a year after Taylor Swift criticised Apple Music ahead of its launch in 2015, the singer-songwriter has starred in a hilarious new commercial promoting the service. The 60-second spot, which ran on Instagram and Facebook, went online on 1 April, which also happens to be Apple's 40th anniversary.
The new ad opens with the 26-year-old singer getting ready for a cardio workout, while sporting perfectly coiffed hair and artfully winged cat eye makeup, and swiping through Apple Music's curated selections to fuel her workout. After settling on a running playlist called #GymFlow (which actually exists), she starts running and rapping her heart out to Drake and Future's Jumpman, only to get distracted and fall flat on her face off the treadmill. The tagline reads: "Distractingly good."
The light and fun ad for Apple marks a stark contrast from 2015 when Swift attacked the company for its decision not to pay royalties during Apple Music's three-month free trial period.
On June 21, she wrote an open letter titled, "To Apple, Love Taylor," explaining her decision to keep her hit album 1989 off the service in protest. She wrote, "we don't ask you for free iPhones. Please don't ask us to provide you with our music for no compensation." Apple caved in to her request within a few hours.
Apple's head of music, Eddy Cue, reportedly called Swift personally to announce that Apple had changed its tune and tweeted about the decision as well.
Later, Swift announced that 1989 would be available on Apple music. It seems like Taylor Swift and Apple have well and truly made up since then. In December 2015, Swift gave Apple Music exclusive rights to stream a documentary of her star-studded 1989 World Tour.
Kanye West's latest album, The Life Of Pablo, was also recently released to stream on Apple Music and Spotify, a month after he tweeted saying it "will never never never be on Apple. And it will never be for sale."
Instagram rolled out its new minute-long video format for users on 29 March, more than a month after making it available to advertisers.
Apple Music currently has 11 million subscribers while rival streaming service Spotify boasts of 30 million.