The owner of a shop in Canada selling imported British foods has been ordered to stop selling Marmite, Ovaltine and Irn Bru because they contain illegal additives. Tony Badger, who runs Brit Foods in Saskatoon, Saskatchewan, said food safety officials had removed the products - which also included Lucozade, Penguin chocolate bars and Bovril - despite their legal import into the country
The firm favourites in British kitchens are the latest additions to the list of seemingly harmless products that have been banned in various countries. Not quite in the spirit of Burns Night, the US banned haggis in 1971 - not on grounds of taste but because it includes sheeps lung as an ingredient.
Here are a few other unusual foods that have been banned for a variety of reasons.
Kinder eggs
The novelty chocolate egg and toy combination is widely loved by children and wannabe children. However, it was barred from import by US customs and Border Protection because it contains a "non-nutritive object embedded in it". A 1938 ban prohibited inedible toys in sweets. Last year, however, Kevin Gass found a way round the ban. In his version, the toy is encased in a plastic capsule with a thick line that separates the two hollow chocolate halves. The gap is enough to warn children that there is a toy inside. Apparently.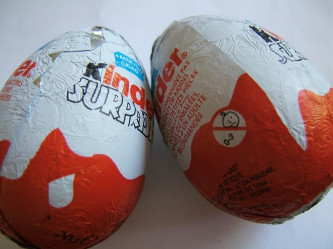 Ketchup
France banned ketchup from primary schools because it "masked the taste of whatever they are eating". It is only a combination of tomatoes, sugar, vinegar, salt and spice, but the French banned it in 2011 for cultural reasons. Christophe Hebert, chairman of the National Association of Directors of Collective Restaurants, led the ban. He said: "We have to ensure that children become familiar with French recipes so that they can hand them down to the following generation. We have to stop children from being able to serve those sauces."
Samosas
Somalia's al-Shabaab group banned the food after ruling it was "offensive" and too Christian. Apparently, it bears a resemblance to the Christian Holy Trinity. The Islamist militant group announced the ban in July 2011 through loudspeakers as they drove across the country. The snacks are commonly cooked and served across the Horn of Africa.
Home-made cakes
On the Isle of Wight, a 12-year-old girl was told she couldn't bring her mother's homemade cakes into school because her mother did not have a food safety certificate. Her disgruntled mother said: "I thought it was a joke. Has health and safety got to the point where you cannot bring home-baked cakes into school?"
Jelly sweets
Jelly sweets made with a thickening agent called konjac are banned from import in the UK as they pose a choking hazard. However, the sweets are widely available in Japan and other eastern countries. Jelly mini-cups were among the confectionary banned, as they contained the prohibited konjac - otherwise known as E425.