Finnish communication technology firm Nokia and UK mobile operator EE have come together to test out a rather unusual proof-of-concept – using mini mobile base stations carried by drones floating in the air to provide immediate 4G mobile data coverage in rural areas at the drop of a hat.
Nokia and EE visited Inverness, Scotland, where they deployed consumer quadcopter drones armed with Nokia Flexi Zone Pico cells weighing just 2kg each in order to see how good mobile network coverage could be even when there isn't a mobile base station for miles away.
"Currently, EE has 67% of the UK is covered by 4G, and that's about 97% of the UK population. But that's where people live, not where they go. Think about the M6 motorway – no one lives next to the M6 but millions of people travel on it every day," EE's network comms lead Howard Jones told IBTimes UK.
"There's been a problem with mobile operators and how they've built mobile networks in the past. It's always been about population coverage, rather than actual geographic landmass coverage. We're planning to have 95% 4G coverage by 2020."
Floating emergency mobile base stations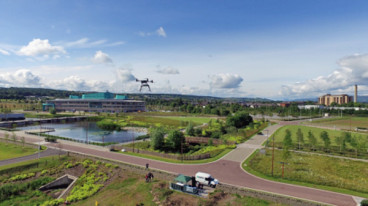 No one expects great mobile coverage in rural areas of the UK, such as at the Snowdonia National Park in north-west Wales, or up Scotland's Ben Nevis, which is the highest mountain on the British Isles. But what if there was a search and rescue operation trying to save someone stuck up on the mountain, and urgent communications were needed?
"We're going to go to these sites that will be used quite rarely, but will be used at important times. What if you could take a micro network capability, put it on a drone, use our own spectrum to backhaul that into the network, and immediately you can have coverage where you never had it before," stressed Jones.
"You would lose a lot of money if you had to pay to have the coverage there every day, but if you can build an innovative solution to have it when you need it, you can save lives and be cost efficient."
Nokia and EE successfully demonstrated that drones flying at between 30-50m in the air were able to provide 4G coverage over a radius of 5km, enabling high quality voice calls between the responders, real-time video streaming and up to 150Mbps data throughput.
Using the 1800MHz spectrum band for backhaul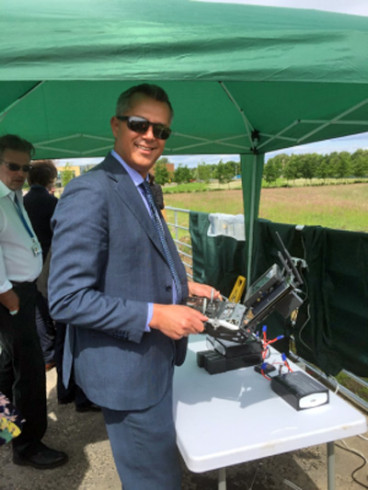 The technology works by enabling mobile devices in the area to connect to the small cell on the Nokia drone. EE then uses in-band backhaul to provide the mobile internet – the operator takes radio spectrum from the 1800MHz spectrum band and uses it to carry traffic to the nearest fixed mobile base station where it can be handed off and carried back to the core network.
The 1800MHz spectrum band has 20MHz of bandwidth, which is more than enough in a rural environment, as well as being able to provide emergency coverage in an urban area during a crisis situation such as a flood, fire or explosion, where the local mobile base stations have been taken down and emergency responders and people affected have no way to communicate.
EE currently have 18,500 mobile base stations in the UK and it plans to build an additional 500 towers in order to reach its goal of 95% land mass coverage by 2020.