Nokia Lumia 830 Review - The Best Windows Phone Smartphone Yet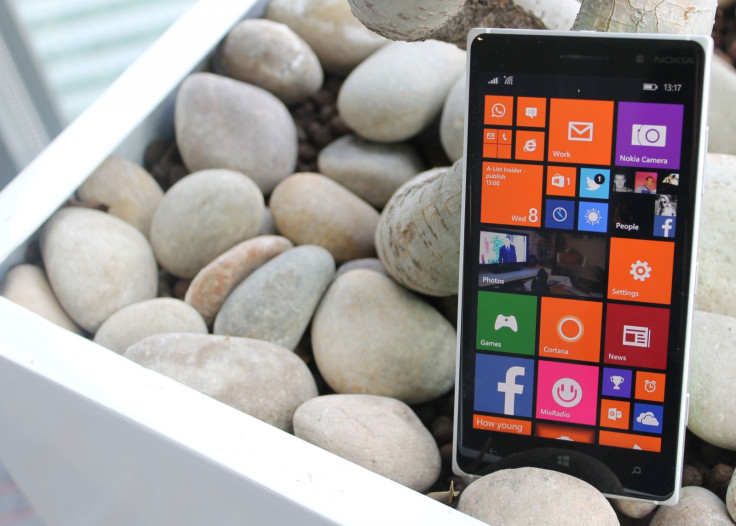 Nokia Lumia 830 Key Features

5in Display (720 x 1280 pixels)
8.5mm/150g
10 megapixel PureView camera
Windows Phone 8.1 with Cortana
Qualcomm Snapdragon 400 with 1GB RAM
16GB storage with microSD card
Price as Reviewed: £300
Nokia Lumia 830 Review
Microsoft is pitching the Lumia 830 as the "world's first affordable flagship smartphone" which is a pretty big claim considering the presence of devices such as the Nexus 5 and Moto X already on the market.
What would be a more accurate description of the Lumia 830 is that this is the first affordable smartphone to use Windows Phone that feels like a high-end device.
But with an ageing chipset can the Lumia 830 really claim flagship status?
---
Lumia 830: Design
---
I'm a fan of Nokia's Lumia design language, particularly the matte finishes of more recent phones such as the Lumia 930.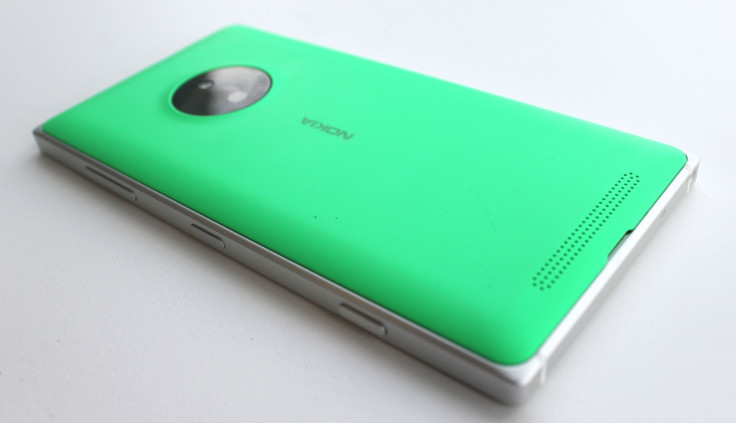 The Lumia 830 gets the mix between colourful and premium just about right in my opinion. It is thin and light enough to feel comfortable, but the angular metallic frame sets it apart from the plethora of plasticky Android devices on the market.
My review unit came with a green rear shell (which is replaceable) and while it won't be to everyone's tastes, I really like it. I even like the bright orange version which is available.
The Lumia 830 is a balanced phone which has been well thought out, and while it doesn't reach the premium heights of an iPhone or HTC One M8, it can certainly hold its own against the likes of the Nexus 5, Moto X, or even the Galaxy S5.
---
Lumia 830: Screen
---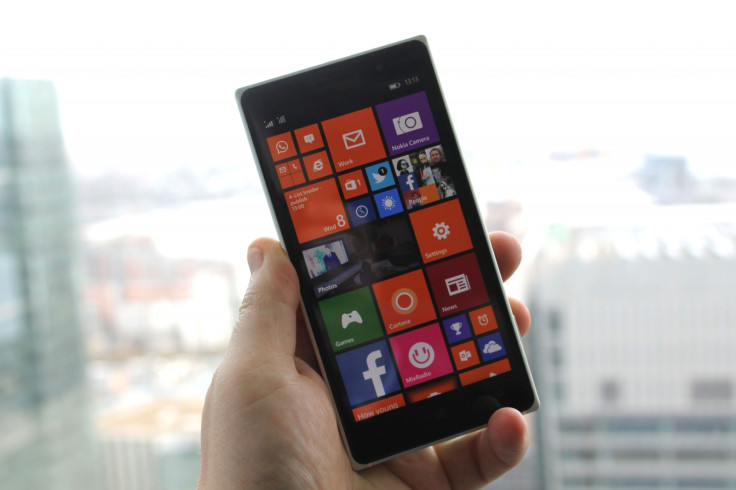 Nokia Lumia 830 held aloft
IBTimes UK
Just like a lot of the hardware on the Lumia 830, the screen is a step below what is on offer from the smartphone flagships in 2014.
At 5in and with a resolution of 720 x 1280 pixels the Lumia 830 has a pixel density of 294 pixels per inch (ppi). Now when you consider the LG G3 has a pixel density of 534ppi, your first thought will be that this screen is pants.
But, a combination of the Windows Phone interface and Nokia's ClearBlack screen technology means it looks a lot better than the numbers suggest.
I found it to be bright and crisp and unlike some Lumia models, there is very little backlight bleeding. Contrast is good and text is rendered sharply on websites and ebooks.
While I wouldn't watch a TV show or film on a screen of this size, if that is what you want to do, then the Lumia 830 offers decent performance.
---
Lumia 830: Performance and Battery life
---
This is probably the one area where the Lumia 830 falls well short of the flagship devices from Apple, Samsung, Sony and LG.
The Qualcomm Snapdragon 400 chipset used is over a year old and with 1GB of RAM, the phone is nowhere near as powerful as the flagship devices from other smartphone manufacturers.

The performance is sluggish, and while you can do most tasks, trying to stream HD video or play graphically intensive 3D games will see the Lumia 830 struggle. This is not helped by the Windows Phone interface which is not as snappy and responsive as Android or iOS.
Elsewhere, the Lumia 830 features Bluetooth, NFC, and Wi-Fi N, and supports all UK 4G networks. The phone comes with 16GB of storage but this can easily be augmented with a microSD card up to a further 128GB.
The phone features a 2220mAh battery and while this won't last you as long as the two-day battery life offered by the Sony Xperia Z3, it will easily get you through a full day's use. The Lumia 830 also includes wireless charging support, which is a feature Microsoft is continuing to push.
---
Lumia 830: PureView Camera
---
The camera on the Lumia 830 features a 10 megapixel sensor, Carl Zeiss lens, and Nokia's proprietary PureView technology, together with an LED flash and optical image stabilisation (OIS) to make for excellent all round performance.
Low light performance is excellent and Full HD video capture is really helped by the addition of OIS.
The images produced by the Lumia 830 are consistently good and the Nokia Camera app offers a huge amount of manual control.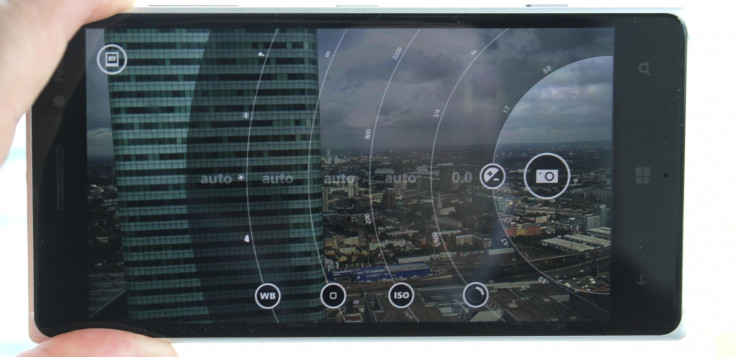 The physical shutter button to allow you to quickly launch the camera even when the phone is asleep is also something I wish more manufacturers would include.
---
Lumia 830: Windows Phone and Cortana
---
The Lumia 830 is the first phone to launch in the UK with Microsoft's voice activated personal assistant Cortana pre-installed.
The feature, which was launched with Windows Phone 8.1, is still in beta, but it does offer a glimpse of what is in store in the future.
Cortana is still in the early stages of development but already it is showing more promise than Siri, and similar promise to Google Now.
Cortana learns your behaviour and the more you share with it, the more it helps. Voice recognition in my testing was better than either Siri or Google Now, and while results returned slowly on the Lumia 830, that is down to the phone's processor rather than Cortana.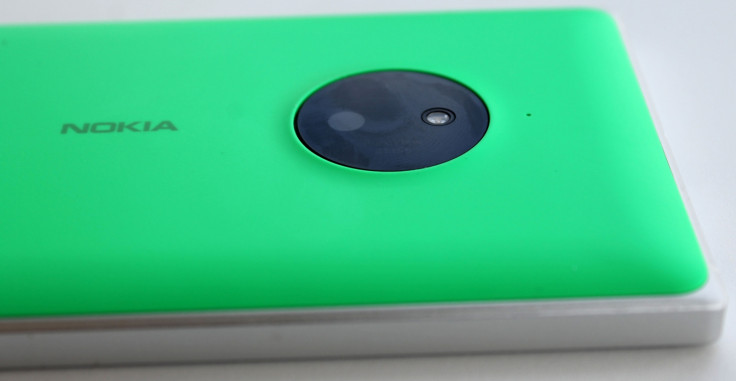 Elsewhere, Windows Phone continues to be a frustrating experience if you are coming from Android or iOS where polished apps from major companies such as Twitter and Facebook contrast heavily with the experience on Microsoft's platform.
The software is getting better, but just not quickly enough to really challenge the two other platforms.
---
Lumia 830: Value and Verdict
---
The Lumia 830 is the thinnest and lightest Lumia to date and is essentially a slimmed-down version of the flagship Lumia 930. This is a good thing in terms of design, but when you realise the processor has been slimmed down too, then that could be a problem.
However, the Lumia 830 also has a great camera, decent battery life, Cortana pre-installed, really attractive design and great build quality.
And considering it costs around £100 less than the Lumia 930, I contend that this is a better option for those trying to decide between the two.
Of course if you have £300 to spend on a smartphone, then you really should be looking to buy the Nexus 5, even if it is almost a year old.
Nokia Lumia 830 Review Scores
Screen 7/10 – Not the sharpest, but better than you would expect.
Camera 8/10 – Great performance in all conditions.
Software 8/10 – Cortana being pre-installed is a major selling point.
Design 9/10 – Slimmer and lighter than the clunky Lumia 930 - and colourful.
Build quality 9/10 – Excellent.
Overall 8/10 – Possibly the all round best phone in the Lumia range, considering the price, though with some drawbacks.
The Good:
Wireless Charging
Good camera
Attractive, colourful design
UK version of Cortana pre-installed
The Bad
Windows Phone app selection
Sub-par performance
© Copyright IBTimes 2023. All rights reserved.