Rioting Erupts in Belfast for Second Night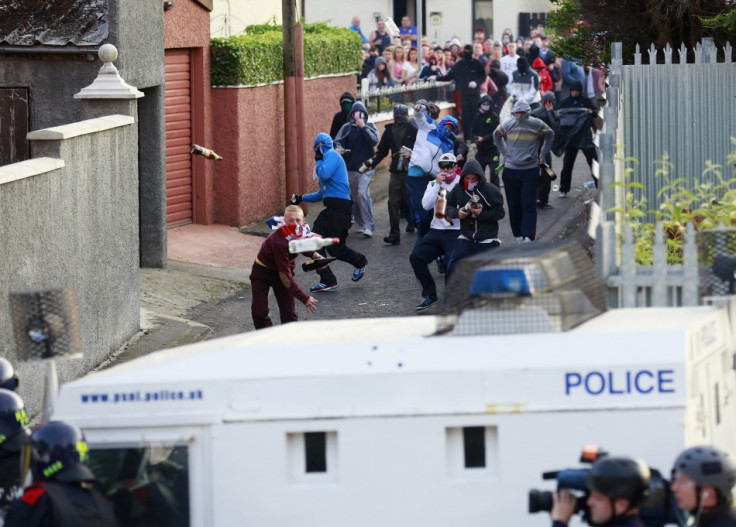 Stones, bottles and fireworks were hurled at police in the Woodvale area of Belfast on Saturday 13 July as rioting broke out for a second night in succession.
One officer was hit by a firebomb, with the BBC reporting that a police colleague helped to extinguish the flames before the officer could sustain serious injuries.
Earlier, a Belfast press photographer was struck in the face with a brick, sustaining mouth injuries.
The violence did not reach the level of intensity of Friday night, when 32 officers and an MP were injured and police fired plastic bullets and a water canon in response.
Unrest initially flared earlier that day when people returning from an Orange Order march attacked officers enforcing an official ban on returning via a traditional route that runs close to a nationalist area in the north of the city.
The Police Service of Northern Ireland drafted in 400 extra officers from England, Scotland and Wales to help them cope with the unrest.
Earlier yesterday, Northern Ireland Police Service chief constable Matt Baggott condemned the Orange Order for calling for protests in response to the ban.
"I think this morning (Saturday) some of the leadership within the Orange Order needs to reflect upon whether they provided the responsible leadership asked for by myself and by the party leaders," he said.
"Some of their language was emotive, having called thousands of people to protest, they had no plan and no control, and rather than being responsible, I think the word for that is reckless."
However, Ulster Unionist councillor Mark Cosgrove who is also a member of the Belfast Parades Forum said it was "irresponsible of the chief constable to blame the Orange Order for the disturbances".
"There were hundreds of thousands of people from both the loyal orders and the bands, the supporters out in Belfast and all over Northern Ireland yesterday and, I think, to try and apportion blame to the Orange Order is totally wrong," he said.
© Copyright IBTimes 2023. All rights reserved.