These are the six brothers that have been charged with sexually abusing a girl in North Carolina for more than 10 years while their parents stood by and did nothing.
The alleged abuse of the girl, which started when she was four and continued until she was 14, only came to light after one of the brothers, Eric Jackson, 27, confessed to a pastor in 2012 that he had committed a sin and needed to "walk in the light". The pastor advised him to contact the police.
He and his brothers, Jon, 25, Matthew, 23, Nathaniel, 21, Benjamin, 19, and Aaron, 18, were later arrested on charges of rape and sexual assault, following an investigation, which lasted more than a year because the girl initially did not want to speak to the authorities.
She was home-schooled alongside the brothers in a house in Perquimans County, the authorities said.
Sheriff Eric Tilley told local TV station WTKR: "I don't think they know the magnitude of what they've done because I don't think they knew it was wrong.
"They haven't been taught any differently. I'm not sure when that's going to sink in exactly what they were doing was wrong."
Their parents Nita, 54, and John Jackson, 65, face charges of child neglect and have been released on bail.
One of the brothers allegedly told police his mother witnessed the abuse at least on one occasion but just walked away.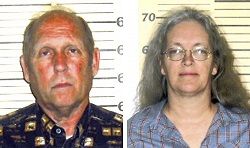 Tilley added: "Personally, I lay the blame on the parents, and their charges are less than what the boys are going to get.
"It's their responsibilities to raise those kids and somewhere along the line, they failed."
North Carolina police interviewed the girl, who is now 16. The family had moved to Colorado by the time the investigation was launched.
The brothers are currently being held on a $150,000 bond.
Eric Jackson was charged with three counts rape of a child, three counts of statutory rape of a child less than six years old and three counts of sex offence.
Jon Jackson has been charged with first degree sex offence.
Matthew Jackson was charged with five counts of rape of a child.
Nathaniel Jackson was charged with two counts of first degree sexual offence and three counts of statutory rape.
The younger brothers, Benjamin and Aaron Jackson have each been charged with three counts of statutory rape.