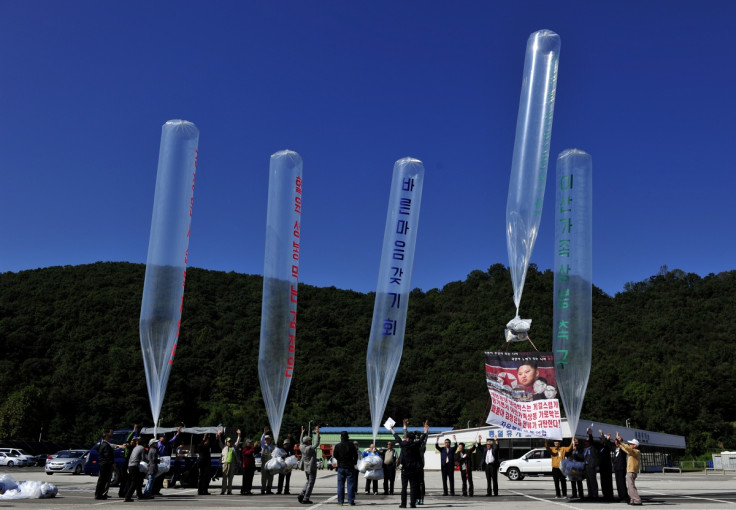 Staunch enemies North and South Korea have long used helium balloons to bombard each other with propaganda leaflets, but it seems the trash talk may have now been taken to a new level. North Korea officials were this week branded "immature" after deciding to include with its "political filth" flyers bags of rubbish, including cigarette butts and used toilet paper.
South Korea officials initially feared they were under biological attack when they discovered unexploded balloons carrying the material, the JoongAng Daily reported.
"When we opened up a bundle dropped on the ground, we found plastic bags filled with leaflets mixed with trash," a South Korean military official said. "There was concern that North Korea may have sent biochemical substances to harm our people, but after analysing the content, it was just trash."
A police official added: "In some of the bundles, there were cigarette butts, tissues and daily waste. Between the leaflets, there was lots of filth difficult to describe in words." This reportedly included used toilet paper.
Pyongyang began sending the balloons on 12 January in retaliation to South Korea's resumption of propaganda broadcasts at the border earlier that week. Responding to the North's underground nuclear test on 6 January, Seoul had also approved resuming the launch of balloons carrying its own propaganda leaflets across the border.
The balloons are fitted with explosive timers which causes the payload to be distributed from a height over towns and cities. Some of the leaflets included in the recent balloons from North Korea denounce the US and attack South Korean President Park Geun-hye, calling her "political filth".
"In South Korea, we maintain a level of dignity toward the top leader of a country," a government official told the JoongAng Daily. "It appears North Korea is conducting psychological warfare by criticising President Park in an immature manner."