North Korean officials have said the K-pop loudspeaker broadcasts by South Korea on Kim Jong-un's birthday has brought the two nations to the "brink of war". The South is using huge loudspeakers, capable of transmitting sound six miles into its northern neighbour's territory, to broadcast a mix of South Korean pop music, criticism of its nuclear programme and telling all about the ruling family's penchant for expensive handbags.
The propaganda offensive by the South has be reintroduced since the ruling Workers' Party of Korea (WPK) declared it had conducted a hydrogen bomb test on 6 January. The test received condemnation from the UK, the US and China, with US officials doubting a bomb was actually set off.
The ear-splitting broadcasts are being heard at least twice a day and of an evening at 11 sites along the heavily militarised border, and North Korea later responded with its own loud messages saying it had been "insulted". The last time these type of tactics were used was in August 2015 and led to an exchange in gun fire between the two nations officially at war since 1950.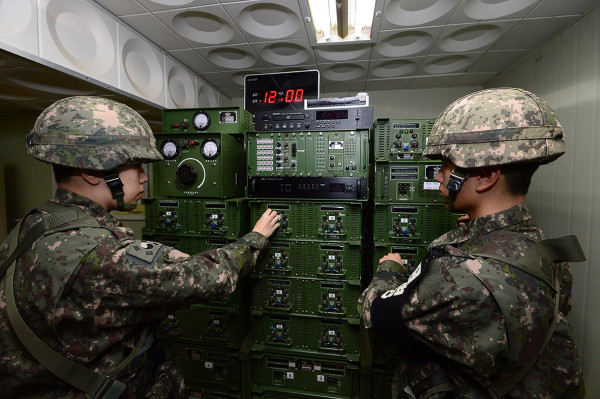 WPK-controlled state media published images of citizens rejoicing at a propaganda rally held in the centre of Pyongyang on 8 January. They were celebrating the "successful" test of the H-Bomb and ruling despot Kim Jong-un's 33rd birthday.
Kim Ki-nam, head of the ruling Workers' Party propaganda department, told the rally, according to Reuters: "Jealous of the successful test of our first H-bomb, the US and its followers are driving the situation to the brink of war, by saying they have resumed psychological broadcasts and brought in strategic bombers."
K-pop hits such as Bang Bang Bang by Big Bang was blared to the North as part of its "stern" punishment. One of the South Korean messages said: "Clothes for Kim Jong-un and Ri Sol-ju cost tens of thousands dollars each and her purse is worth thousands of dollars too."
Officials in the South have said they found a tiny amount of xenon gas in a sample near the east coast but could not verify if it was from a nuclear test. They also believe TV footage released by Pyongyang on 8 January showing a submarine launch of a ballistic missile was probably fake.