"US Ambassador to the United Nations Nikki Haley, a political prostitute, has kicked off a hysteric fit," begins a commentary posted on North Korean official news agency KCNA on Friday (8 September).
The commentary warned the US of grave consequences if it did not control "Haley's tongue-lashing," accusing her of levelling false allegations against North Korea and disrespecting the Pyongyang regime.
Haley had recently condemned North Korea's missile tests and the latest nuclear test on 3 September, seeking imposition of tighter sanctions. She has called a meeting of the UN Security Council on Monday (11 September) to discuss the issue.
Quoting her remarks in which she had accused North Korea of misusing missile and nuclear weapons and "begging for a war" with the US, the commentary stated that she was doing all this to fulfill the "ill-intended purpose to adopt a tough new sanctions resolution with ease by describing the DPRK as a 'provoker of war'". Democratic People's Republic of Korea (DPRK) is North Korea's official name.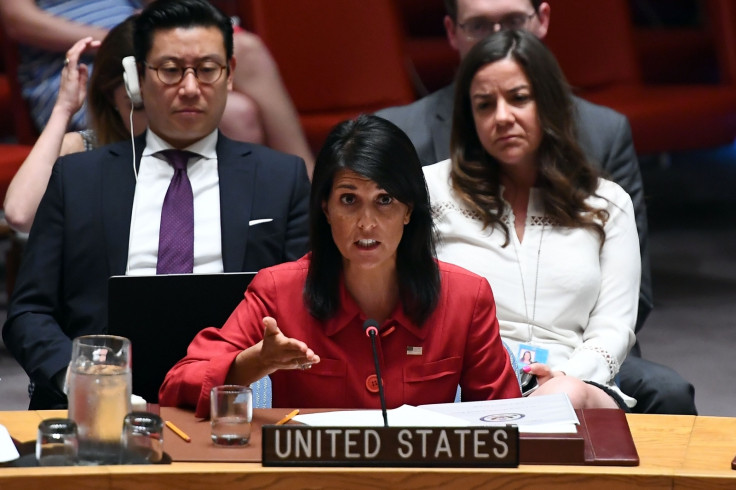 The commentary termed her "a beginner in politics and diplomacy" and said that she was making a "laughing stock" of herself in the world by falsely accusing the country of "non-existent human rights issues" and calling for military action.
"She is crazily swishing her skirt, playing the flagship role in the [US President Donald Trump] administration's hideous sanctions and pressure racket against the DPRK," it noted.
North Korea also targeted the US administration in the commentary, accusing them of selling arms to ignite war in several parts of the world while pretending to be supporters of peace.
The commentary also mentioned South Korea's purchase of US-made weapons and missiles, stating Washington had put pressure on Seoul for the purchases.
"She [Haley] talked as if the DPRK were inviting a war while the US wanted peace, asserting that there is a limit to the patience of the US.
"But with no rhetoric can the US cover up its true colors as chieftain of aggression and war and wrecker of peace. In actuality, the heavyweights of the US are busy with selling arms," the KCNA commentary read.
The commentary reiterated the reclusive state's allegations that US aggression and militarisation of the Korean peninsula compelled it to develop nuclear weapons to protect the country and its people from American invasion.
"Nothing will be more foolish than to think that the DPRK, a strong nuclear power, will remain passive towards that outrageous pressure aimed at crippling its social system," the commentary added.