North Korea can conduct a fresh nuclear test even as tensions continue to rise in the region, South Korea has warned. Preparations are in an advanced stage and Pyongyang can carry out the detonation within hours from Kim Jong-un's order.
Seoul has issued the warning amid concerns that the North could conduct a nuclear test in the coming weeks.
"It's assessed that North Korea is capable of conducting a nuclear test within hours after Kim Jong-un's order. We are keeping close tabs on its nuclear-related facilities with combined assets with the US," an official with the South Korean defence ministry told the Yonhap news agency.
Multiple reports over the past few days – both by publications and analysts – speculate that the reclusive North Korean regime could carry out either a major missile or nuclear test. If the country goes ahead with the detonation, it would be country's sixth nuclear test.
"The test could come as early as the end of the month [March]," an American official was quoted as saying by the Fox news citing "most recent intelligence".
So far, there is no activity reported at the Punggye-ri nuclear site where North Korea has conducted five nuclear detonations. The location sees heavy vehicular movement prior to a nuclear test.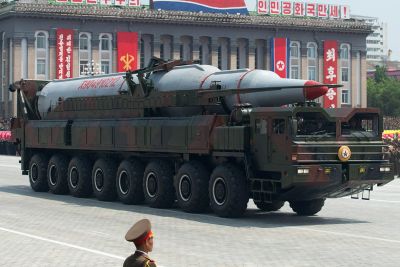 On Wednesday (22 March), Pyongyang had attempted to launch a missile, but it ended in failure. The projectile reportedly exploded within seconds after takeoff.
Seoul's defence ministry said in a statement: "South Korea and the US are aware of the missile launch and to their knowledge North Korea's missile was not successfully launched."
It is still unclear whether the failed launch was a medium- or long-range missile.