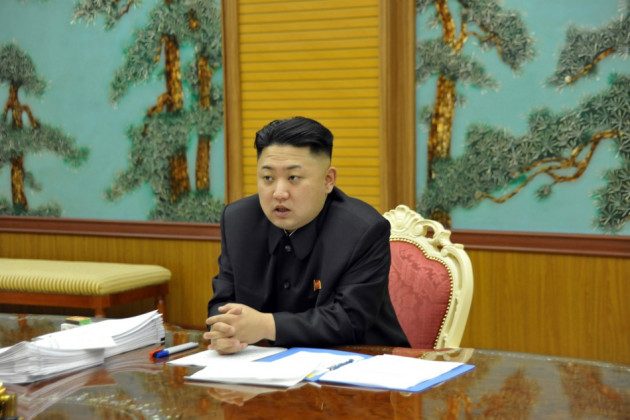 There are fears a "hidden famine" in North Korea has resulted in families resorting to cannibalism, following reports a man was executed for killing his two children for food.
Reports have also claimed one man dug up his own grandchild's corpse to eat, and another boiled his child and ate his flesh.
The reports of cannibalism in the secretive communist state were collected by Japanese news agency Asia Press, which claims to have a series of credible "citizen journalists" inside North Korea, and published by the Sunday Times.
During a collection of interviews, the reports claim that more than 10,000 people have died in the farming provinces of North and South Hwanghae, south of the capital Pyongyang, as a result of a "hidden famine".
The details of the famine arrive following North Korean leader Kim Jong-un's decision to spend vast amounts of money on two rocket launches in recent months, and threat to detonate a nuclear device in defiance of the United Nations.
One informant from South Hwanghae told the Asia Press: "In my village in May, a man who killed his own two children and tried to eat them was executed by a firing squad.
"While his wife was away on business he killed his eldest daughter and, because his son saw what he had done, he killed his son as well. When the wife came home, he offered her food, saying: 'We have meat.'
"But his wife, suspicious, notified the Ministry of Public Security, which led to the discovery of part of their children's bodies under the eaves."
Another North Korean, Gu Gwang-ho, said: "There was an incident when a man was arrested for digging up the grave of his grandchild and eating the remains."
An official of the ruling Korean Worker's party was also quoted as saying: 'In a village in Chongdan county, a man who went mad with hunger boiled his own child, ate his flesh and was arrested."
North Korea has yet to conform or deny the reports.
Undercover reporters have claimed food from North and South Hwanghae was confiscated to feed the army and the residents of Pyongyang.
The Korean Worker's party added: "The farming villages I visited from May to June were in such a tragic state that I had to cover my eyes. There was no food at all. Casting out elderly parents or abandoning children was nothing rare."
A famine in North Korea during the 1990s - known as the Arduous March - was believed to have killed between 240,000 and 3,500,000 people.
North Korea said this week its leader had ordered top security officials to take "substantial and high-profile important state measures", leading to speculation the country is planning a third nuclear test.