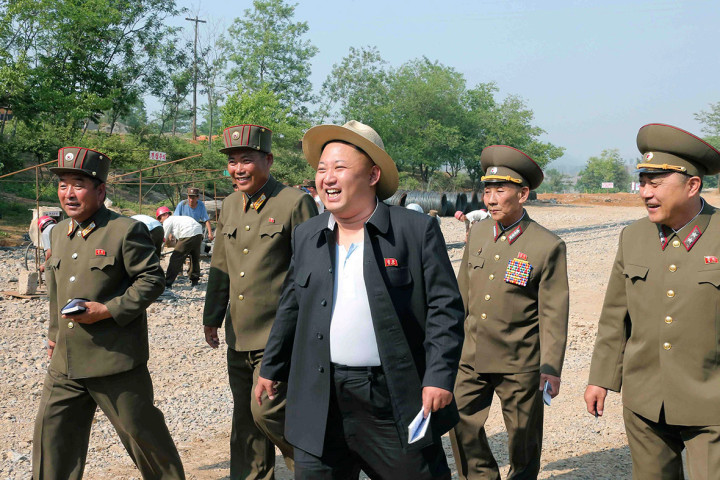 North Korea's leader Kim Jong-un has lambasted his country's weather forecast service, saying it broadcasts reports that are "incorrect".
In a rare public critique of a government body, Kim criticised the science used in observations and called for the use of modern equipment, the official Korean Central News Agency (KCNA) has reported.
"There are many incorrect forecasts as the meteorological observation has not been put on a modern and scientific basis," Kim was quoted by KCNA as saying.
The unusual rebuke came during an inspection of the country's Hydro-meteorological Service.
The visit was broadcast on state television.
Criticism of officials during these visits is extremely rare - the last time happened was in May 2012, when Kim was disappointed by a trip to a Pyongyang theme park.
In another public scolding in 2000, North Korea lambasted the nation's football team for its performance at the World Cup in South Africa.
During his visit to the Hydro-meteorological Service, Kim called the weather service "very important ... directly affecting the overall economic affairs". The leader also highlighted the need to "modernise meteorological observation equipment at a high level".
"It is necessary to fundamentally improve the work of the hydro-meteorological service in order to scientifically clarify meteorological and climatic conditions."
Accurate forecasts are needed to protect the "lives and properties" of people from disasters caused by "abnormal climatic phenomenon", he added.
Last month, North Korea experienced its worst spring drought in three decades, which, according to state media, damaged thousands of acres of crops.
North Korea has suffered regular chronic food shortages under the ruling Kim dynasty, with the situation being exacerbated by floods, droughts and mismanagement.
During a famine in the 1990s, hundreds of thousands died.